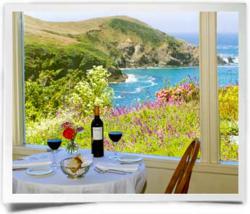 You'll eat great food, taste fabulous wines at exclusive wineries and also meet the winemakers.
Mendociono, CA (PRWEB) October 04, 2012
JB Tourism Media Group recently launched the Mendocino Lovers' Sweepstakes, giving entrants an opportunity to win a VIP food and wine tasting package in the heart of the Mendocino wine country. This special package includes a chauffeur-driven tour, visits to exclusive wineries, dining at premier restaurants and a three-night stay at two luxury inns.
"If you've been planning a trip to the Mendocino County, but have delayed it due to timing or finances—this is your chance to save and win big," said Jeane Bilolavek, publisher of the Mendocino Directory and the sweepstakes' creator. "If you've been savoring a trip to the Mendocino wine country then you've got to throw your hat into the ring and sign up," she said.
The Food & Wine Tasting Package starts with a food and wine pairing class that takes into consideration food preferences. Then, you're off on a chauffeur-driven tour to exclusive Mendocino County wineries and stops at elegant restaurants. The package offers a true insider's experience: You'll eat great food, taste fabulous wines at exclusive wineries and also meet the winemakers. The food-wine tasting package includes:

A food and wine pairing class
A chauffeur-driven trip for a first-class experience
A wine tour along scenic Hwys 128 and 101
A three-night stay at a cozy Inn and hot springs resort
A romantic dinner, private wine or scotch tasting with a sommelier—and more
For a chance to win the Food and Wine Tasting Package in beautiful Mendocino County, enter the Mendocino Lover's Sweepstakes.
There are two food and wine packages, and though different, each provides an "equally savory and satisfying experience," Bilolavek said. For both, you'll stay at the luxurious Albion River Inn and lodge at the historic Vichy Springs, and relax in the warmth of Vichy's carbonated mineral baths. "A bit of pampering when on vacation is good for the body and soul," Bilolavek added.
Bilolavek is convinced that a three-night stay in Mendocino County is indeed a great way to sample its acclaimed wines and dine at some of its fine restaurants, with the added bonus of not feeling hurried. "For foodies it's like a culinary nirvana, an explosion of the senses—food in a variety of rich colors, fragrant smells and especially delicious tastes," remarked Bilolavek. "And it's more relaxing than a day trip because you have time to slow down, take it all in and enjoy it."
The Mendocino Lovers' Sweepstakes' is also giving away many other amazing grand and weekly prizes. Other grand prizes include: an Outdoor Adventure Package, a Mendocino Coast Wedding, a Shopping Spree and Spa Package, a Culture and Creative Arts Package and $25,000 in cash.
Weekly prizes are also being given away this week and every week through December 18th. These prizes include gift certificates to spas, restaurants, adventure outfits, charming inns and more. Click here to learn more about increase your odds of winning.
Mendocino County is a three-hour drive from the San Francisco and a quick getaway for anyone living in or visiting the San Francisco bay area, Bilolavek explained. "It's such a special place with its sweeping landscapes, amazing food, and celebrated wineries. And for those unfamiliar with Mendocino, the Food and Wine Tasting Package is a great introduction to the richness Mendocino has to offer."
The Mendocino Lovers' Sweepstakes runs through December 31, 2012. Grand prize winners will be announced in January 2013. But weekly prize are being given away now through December 18th.
Contact: Mendocino Lovers' Sweepstakes
info(at)mendocinovisitors(dot)com
Ph: 415.488.1285
###