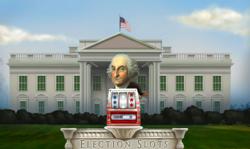 Election Slots is a light-hearted approach to engaging voters.
San Francisco, CA (PRWEB) October 04, 2012
Election Slots: Players enter the game to be greeted by a mischievous-looking George Washington, manning the arm of a starred and striped slot machine. They are then offered the choice to play on either a Democratic or Republican machine, showing support for their elected political party. As players spin, a game chart continually tallies which party is in the lead. For a playful effect, faces of well-known political figures can be seen spinning on the machines - Barack Obama and Mitt Romney, Ronald Reagan, Bill Clinton, Sarah Palin, Rick Santorum, Jimmy Carter, and George W. Bush.
The game features:
--Play with (or against!) Facebook friends, who quickly become political allies or partisan rivals
--A daily tracker of winnings for each party
--Mini games to keep users enthused
--New features and weekly options added to keep players informed about the election
With Election Slots, Ruby Seven Studios is taking a light-hearted approach to engaging voters, with a reminder that every vote counts on November 6th.
The studio's CEO Michael Carpenter states, "We hope that Election Slots lets the Facebook game community support their chosen candidate in a new and fun way. We created Election Slots so that voters have an entertaining outlet for getting excited and involved in politics."
Voters can join in making a change toward this November! Play on Facebook:
http://apps.facebook.com/electionslots
About Ruby Seven Studios: Founded in 2012, Ruby Seven Studios was created through the partnership of a game design team in San Francisco (headed by former PopCap Games executive Michael Carpenter) and ChaYoWo Games. As one of the largest casual game developers in India, ChaYoWo Games has developed award-winning titles including BackYard Bounce (published by Chillingo) and Dark Hills of Cherai: The Regal Scepter (published by BigFish Games and voted Gamezebo.com's Best Hidden Object Game of 2011).