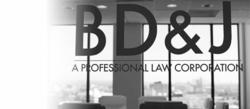 Orange, CA (PRWEB) October 02, 2012
The Law Offices of Banafsheh, Danesh & Javid, P.C. have opened new offices in Orange, CA to help serve their clients who live in Orange County. The office annex, which is located at 333 City Boulevard West on the 17th floor, can be reached by dialing (714) 716-5019.
Like all of the firm's offices, BD&J Law Orange County will be a fully staffed and functional office that handles all manner of personal injury cases, including car accidents, motorcycle accidents, slip and fall, dog bite, and all catastrophic injury cases. The firm's partners Sean Banafsheh, Kevin Danesh, & Raphael J. David, and trial attorney Steven Hilst will be the attorneys who take on the Orange County cases. According to their website the 4 have recovered hundreds of millions of dollars for their thousands of satisfied clients.
The personal injury attorneys at BD&J Law Orange County offer no obligation free consultations for those who have been seriously injured in accidents that are no fault of their own. They take all cases on a contingency fee basis, which means that they do not charge for their services like traditional lawyers do. Payment to the firm is dependent upon their winning your case. Put simply, if they don't win your case, you don't pay them a dime.
"Expanding our practice to Orange County has been a long time coming," says Sean Banafsheh, partner and co-founder of the BD&J Law Firm.
"We have been helping clients in Orange County since we started the firm more than 10 years ago. We just never had local offices and phone numbers to the region. These changes will make it easier for our Orange County clients to receive the representation they deserve. We're very excited about the prospects for the office."
About Banafsheh, Danesh & Javid, P.C.
Banafsheh, Danesh & Javid, P.C., is a well-respected Beverly Hills, CA personal injury law firm that serves clients throughout California. The firm maintains offices in Los Angeles, Orange County, San Francisco, San Diego, Riverside, San Bernardino, San Jose, and Sacramento. The firm's personal injury lawyers handle cases on a contingency fee basis, not charging a fee unless they can gain a recovery for their clients. They practice all form of personal injury law including but not limited to truck accidents, motorcycle accidents, car accidents, pedestrian injuries, brain injuries, wrongful death and other serious injury claims.
The firm also features a staff that speaks Spanish, Italian, Farsi and Hebrew in addition to English and offers free consultations via their toll free number 800-820-1111.