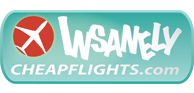 Wichita, Kansas (PRWEB) October 03, 2012
Travel website InsanelyCheapFlights.com today announced a sale on most flights from Wichita, Kansas. The sale includes a $20 discount, which is available on both domestic and international flights leaving Wichita. Travelers who are seeking cheap airfare will find that the site offers a variety of flights departing from Wichita Mid-Continent Airport, most of which are eligible for the additional discount by using the promo code 'ICF20' at checkout. The discount airfare code will automatically provide the additional savings on the flight booking. The airfare sale runs through December 31, 2012.
"Whether you need a cheap flight out of Wichita to visit family or to take a vacation we can help you find it," explains Steve Oliverez, of InsanelyCheapFlights.com. "Our site's mission is to provide cheap flights and Wichita is one of the cities that we cover. This sale makes our cheap flights even more appealing."
All travelers seeking flights out of the Wichita area will be eligible for the discounted airfare. The site offers detailed flight information, including one-way and round-trip airfare opportunities that include popular destinations, such as Wichita to Chicago, Wichita to Las Vegas, Wichita to New York, and Wichita to Florida. The airfare sale can also be applied to flights arriving in Wichita. Travelers can log onto the site and conduct a search to find flights heading into Wichita from major cities around the country.
Complete airfare sale details can be found online at the company site. For more information or to view discount airfare opportunities, visit http://www.InsanelyCheapFlights.com.
About InsanelyCheapFlights.com
Based in Las Vegas, InsanelyCheapFlights.com provides discounted airfare to destinations around the country, as well as around the world. Users can log onto the site and search for cheap flights for their vacations, business travel, and more. Along with cheap airfare, they also provide access to booking discounted hotel room stays, as well as the ability to add discounted car rental. They provide a complete discounted travel booking site. For more information, visit the site at InsanelyCheapFlights.com.