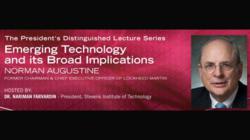 Hoboken, NJ (PRWEB) October 03, 2012
On Oct. 24, 2012 at Stevens Former Lockheed Martin CEO to Examine the Impact of New Technologies
Retired Lockheed Martin Chairman and CEO Norman Augustine will be the inaugural speaker in Stevens Institute of Technology's newly-launched President's Distinguished Lecture Series hosted by Stevens President Nariman Farvardin. The series brings the world's most illustrious science and technology leaders to campus to spur debate about the role and impact of profound technological advances.
"The President's Distinguished Lecture Series offers the Stevens community unprecedented access to influential scientists, technologists and policymakers who are shaping 21st century society," said Farvardin. "We are thrilled to have Mr. Augustine, a monumental force in the U.S. defense and aerospace industries, kick off the series this month."
During his remarkable career, Augustine held positions as under secretary and acting secretary of the Army, chairman and CEO of Martin Marietta Corporation, chairman and CEO of Lockheed Martin, and professor at Princeton University. He has served as chairman of the National Academy of Engineering, chairman of the American Red Cross, chairman of the Aerospace Industries Association, president of the Boy Scouts of America, and 16-year member of the President's Council of Advisors on Science and Technology.
Augustine is also a Regent of the University System of Maryland, a former trustee of Massachusetts Institute of Technology and Princeton, and a trustee emeritus of Johns Hopkins University. He has served on the Board of Directors of Black & Decker, ConocoPhillips, Lockheed Martin and Procter & Gamble. He holds 29 honorary degrees, in addition to the bachelor's and master's degrees in Aeronautical Engineering he earned from Princeton.
In a one-hour lecture at Stevens, "Emerging Technology and Its Broad Implications," Augustine will share insights on the unforeseen consequences of new technologies on America's most established institutions.
"New technologies are revolutionizing our lives but also threaten to disrupt institutions that have been largely unchanged for centuries," said Augustine. "I am excited to join with the Stevens community in a conversation about how America might improve its chances in this dynamic context. Stevens has been a tremendous force in technological innovation in our society and I am pleased to be engaging with the thought leaders at Stevens as we initiate this series."
The President's Distinguished Lecture Series is free of charge and open to all Stevens faculty members, students, staff and invited guests who RSVP prior to each event. The opening lecture featuring Augustine will take place in Stevens' DeBaun Auditorium at 3 p.m. on Wednesday, Oct. 24, 2012. Following Augustine's speech, attendees are invited to attend a reception in Stevens' Lawrence T. Babbio Center for Technology Management.
For more information about the President's Distinguished Lecture Series, please visit http://www.stevens.edu/lecture.
About Stevens Institute of Technology
Founded in 1870, Stevens Institute of Technology, The Innovation University™, lives at the intersection of industry, academics and research. The University's students, faculty and partners leverage their collective real-world experience and culture of innovation, research and entrepreneurship to confront global challenges in engineering, science, systems and technology management.
Based in Hoboken, N.J. and with a location in Washington, D.C., Stevens offers baccalaureate, master's, certificates and doctoral degrees in engineering, the sciences and management, in addition to baccalaureate degrees in business and liberal arts. Stevens has been recognized by both the US Department of Defense and the Department of Homeland Security as a National Center of Excellence in the areas of systems engineering and port security research. The University has a total enrollment of more than 2,400 undergraduate and 3,700 graduate students with more than 350 faculty. Stevens' graduate programs have attracted international participation from China, India, Southeast Asia, Europe and Latin America as well as strategic partnerships with industry leaders, governments and other universities around the world. Additional information may be obtained at http://www.stevens.edu and http://www.stevens.edu/news.