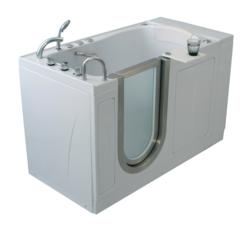 We are excited to offer a line of walk in bathtubs where water and air jets come standard without additional costs to our customers.
Denver, CO (PRWEB) October 03, 2012
Aging Safely Walk In Bathtubs, a supplier of step in tubs, is excited to offer customers dual massage jetting now standard with every Ella's Bubbles Massage Series walk in bathtub, so customers can customize water massages to their liking. The Ella's line combines safe bathing with therapeutic massage to provide mobility restricted customers and seniors with the opportunity for relaxation, rejuvenation, pain reduction and precise water massage selection.
Zach Wennstedt, Aging Safely's CEO, said, "Our clients are making an investment in wellness when they purchase a hydrotherapy walk in tub. Water hydrotherapy and air hydrotherapy do not feel the same against the body. Customers may prefer different types of massage depending on the condition of their muscles on any particular day. Unlike other lines where you would typically pay extra for dual jets, we are making it standard on all Ella's Massage models. By offering both types of jets in the standard pricing, it makes it more affordable for many to get exactly what they want for less."
Purchasers can choose the massage they want at any time. Hydrotherapy water jets use the strong force of pumped water to create a firm pressure that focuses more than air hydrotherapy. In contrast, air jets use warm air, instead of water, to generate small bubbles that create a soothing massage that helps the bather relax and enjoys a therapeutic massage sensation. Aging Safely's customers will enjoy controlling air jet intensity by using an air pressure control on all Massage Series walk in bathtubs. The number of hydrotherapy jets varies depending on the walk in tub model, but it ranges between 12 and 18. The two types of jets can be used separately or together to potentially temporarily relieve arthritis aches and other medical conditions that impair mobility or promote muscle pain.
The low threshold tubs have features that promote safe bathing for elderly and mobility impaired individuals. Non-skid flooring, easy-to-open doors, internal grab bars and a water temperature control enhance bathing safety. Customers can select a massage style without worrying about becoming scalded from water that is too hot.
Aging Safely's representatives want to offer customers walk in tubs that satisfy their current and future needs. These unique step in tubs cater to seniors and mobility impaired individuals who want accessible, safe bathing with massage options that can be adjusted for their current or future medical conditions, mood or bathing purpose. Aging Safely's walk in bathtubs deliver a customized water massage experience for bathers seeking more versatility and control to their in home spa.
Contact Information:
Julian Felthager
1-888-779-BATH(2284)
info(at)agingsafelybaths(dot)com