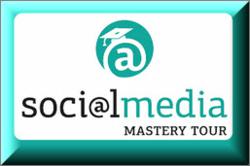 The beauty of social media is that it will point out your company's flaws; the key questions is how quickly you address these flaws." –Erik Qualmann
Norwalk, CT (PRWEB) October 05, 2012
On October 26, 2012 business owners, entrepreneurs and organizations will have the opportunity to get expert advice on building critical and effective social media strategies. Six nationally recognized experts will host a day-long workshop helping attendees achieve success through developing strong campaigns to support their sales and marketing efforts.
Experts, including Kathryn Rose, author of the recently released Solving the Social Media Puzzle and organizer of the event, will be on hand to share proven strategies that could help create greater exposure, increased traffic and increased sales, all without investing in expensive advertising campaigns.
The Social Media Mastery Tour finishes at the Norwalk Inn & Conference Center in Norwalk, CT and registration is now open at http://SocialMediaMasteryTour.com plus early bird pricing has been extended through October 5.
"Most business owners don't want to try and be everything to everyone. Most need targeted, qualified prospects and an increase in traffic to their websites," said Kathryn Rose, CEO, Social Buzz Club, LLC. "If you're looking to choose your social media activities wisely and get results, without getting consumed by all of the options, please join us on October 24, 25 or 26. The LIVE Social Media Mastery Tour is meant for you."
"When you get a group of talented professionals to dedicate 3 days touring New England sharing with local business owners the cutting edge tools available for marketing, get everyone in your company there! Your bottom line will grow because of this one day!" says Laura Rubinstein, President, Social Buzz Club, LLC and creator of the Social Media Blast Off Program.
Featured speakers include Video Marketing Expert Lou Bortone, Blog Marketing master Apryl Parcher, Michelle Fontaine the Facebook FB Smarty, Lori Richardson teaching how to capitalize on LinkedIn Laura Rubinstein training on Pinterest the hottest social network for traffic, and Kathryn Rose sharing Twitter success strategies.
The Social Media Mastery Tour is a media educational campaign to assist business people with their desire to use social media to improve their bottom line, customer relationships and position themselves as industry leaders. The Social Media Mastery Tour brings the experts in to help eliminate the confusion that social media can cause and replace it with a solid knowledge of how to utilize it to increase visibility and profits. Local corporations are encouraged to send their marketing departments and customer service representatives to this intensive training day.