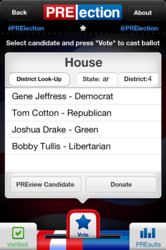 (PRWEB) October 03, 2012
On the eve of the first Presidential debate, PRElection has released an update to its free app that expands voting to all 435 House and 33 Senate races this year. Users can now vote and see who is winning in any congressional district, as well as view overall results that predict the balance of power in each branch of government.
PRElection results for Tuesday evening October 1 in the Presidential election show Romney 47, Obama 44. Libertarian candidate Gary Johnson holds 4% of the vote. The tight separation between the two leading candidates is well within the margin of error, and intensifies the importance of Wednesday night's debate.
Current PRElection App voters should download the free update from the Apple App Store that will allow them to vote in and view the results for Congressional races.
PRElection allows candidates in all races to update their PREview Candidate and Donate links, through which voters can learn about important positions, and allows voters to get information about candidates from every party in every race.
To learn more about PRElection, go to http://www.PRElectionAPP.com.
Download PRElection for free from the App store at http://itunes.apple.com/us/app/prelection/id559954385?Is=1&mt=8#