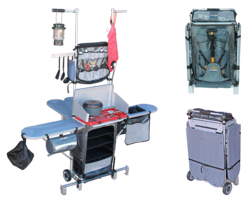 The rugged and portable new Grub Hub® will redefine the market for outdoor workstations and camp kitchens.
St. George, UT (PRWEB) October 03, 2012
Nearly eight years after the first drawings were sketched, the Grub Hub® has earned two patents and is now being shipped to consumers and retailers in the U.S. Intended uses include camping related to fishing, hunting, rafting, boating, ice fishing, tailgate events, music festivals, scout troops, four wheeling, overland expeditions and other outdoor pursuits.
Joe Baughman, the founder and president of GrubHubUSA, states "The rugged and portable new Grub Hub® will redefine the market for outdoor workstations and camp kitchens." According to Mr Baughman, "The product's goal is to provide totally functional outdoor workspace with the highest level of portability possible." "The Grub Hub® is light enough to roll along for an afternoon at the beach yet rugged enough for expedition use anywhere in the world."
The new Grub Hub® provides over 9 square feet of table space and supports most 2 burner camp stoves on the central aluminum surface. An elevated tower supports cooking utensils, lighting and gravity fed water while keeping other outdoor kitchen necessities at hand. The unit's main storage compartment has three adjustable shelves and almost 4000 cubic inches of space for complete kitchen gear organization.
The Grub Hub® is shipped with many standard accessories including a collapsible kitchen sink and a weather resistant paper towel holder. The entire unit folds down in minutes for easy transport and weighs about 45 pounds loaded with gear according to online product information. Some accessories, (such as the stove, lantern water bladder and spatulas) are shown only to illustrate usage. They are not included with the standard product.
Mr Baughman's lifelong enjoyment of the outdoors, including participation in two National Outdoor Leadership (NOLS) courses, contributed to the product development. However, the idea itself emerged from necessity while exploring Lake Powell by boat. "My wife Patty and I arrived just before dark at a camp site about 60 miles up the lake and had somehow forgotten the folding camp table along with a box containing most of the cooking necessities. The idea came quickly as we sat in the sand watching the light fade while carving some utensils to stir our cold, bland dinner shaken out of cans opened with a screw driver."
The concept was drawn up in minutes upon returning from the trip but nearly 8 years passed from inception to product delivery. During this period Baughman built prototypes, was awarded patents with over twenty two claims and established overseas production. Baughman adds, "the general concept was simple enough, yet there were challenges at every turn managing functionality, weight, durability, and cost. Every part such as the moulded tables, aluminum extrusions and fabric organizers were developed from scratch, yet all had to work and fit together perfectly. I made many trips back to the drawing board to produce the product the way I envisioned it. After eight years of development, camping trips, and feedback from users, I am very confident campers will enjoy the product."
Formerly of Jackson Hole, Wyoming, Baughman and his wife wanted a business logo that reflected the outdoors and their desert home in southern Utah. The logo inspiration, a desert tortoise, was literally wandering down the trail in front of them one day while hiking in the nearby Red Cliffs Desert Reserve. The company's tortoise-like logo, and the tag line "Take it With You", make an obvious match for the products. Folded for transport, Grub Hub® work stations have a compact profile with hard plastic tables around the back and sides resembling a tortoise shell.
In addition to all types of campers, Mr. Baughman hopes to attract the scientific and medical communities as customers. He says that "While we need to focus our marketing efforts, we will keep looking for new customers that value highly portable organized outdoor work space. It would be very rewarding to see the Grub Hub® used around the world for first-aid, emergency response, and other utility work space purposes.
GrubHubUSA is located in the great St. George, UT area and offers is products through a growing list of retailers and online. The company was founded in 2004 and is developing additional products including a gravity fed water delivery system and a soft sided cooler that fits inside the Grub Hub®.
For more information: http://www.grubhubusa.com, http://www.twitter.com/grubhubusa, http://www.facebook.com/grubhubusa.