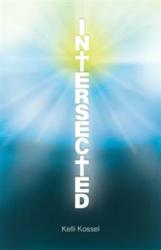 each person's story describes both their experience of salvation and how God has been at work in their life before
Oshkosh, WI (PRWEB) October 04, 2012
OSHKOSH, Wis. – When Kelli Kossel recalls the inspiration behind her new book, "Intersected" (published by Inspiring Voices), the excitement and wonder is palpable.
"The idea for 'Intersected' came to me upon awakening one morning in mid-October of 2010," Kossel recalls. "I knew the instant I woke up that God wanted me to start interviewing Christians to obtain testimonials of how they came to a personal faith in Jesus Christ. I would never have come up with this idea on my own. Before God gave me this assignment, I was not the type of person who walked up to people I didn't know. Nevertheless, I followed in obedience."
In "Intersected" Kossel presents the testimonies of 40 people who were intersected and transformed by an extraordinary God.
From the book's back cover summary:
"Something was missing from their lives; something more was available to them. Intersected shares the journeys of forty people who found that something—a personal relationship with God. The transformative power of God's love comes alive in these inspiring stories of the difference God has made in the lives of people just like you.
God intersected forty lives in the midst of fear, depression, addiction, selfishness, pain, and emptiness, and invited them to discover a life of freedom. He offered them a choice: choose to continue on the broad road of destruction or choose to follow the narrow path toward heaven."
Inspirational and engaging, the stories in "Intersected" testify not only to each individual's personal story, but to the healing power of God's grace and mercy.
"The fact that each person's story describes both their experience of salvation and how God has been at work in their life before and since makes "Intersected" unique," says Kossel. "The 40 people openly share their stories with a raw honesty that is extremely rare. Few people are humble enough to bare their deepest, darkest feelings."
About the Author
God intersected Kelli Kossel's life many times before she finally received His free gift of salvation. She strives to ignite passion for God in others by sharing all that is available to Christ's followers. "Intersected" is her first book. Kossel lives and works in her hometown of Oshkosh, Wis.
Inspiring Voices, a service of Guideposts, is dedicated to helping authors share their words of hope, faith and inspiration with the world. A strategic publishing partnership with indie book publishing leader, Author Solutions, Inc.; Inspiring Voices allows authors to publish inspirational and spiritual books without respect to their specific doctrine, denomination or political point-of-view. Authors published through Inspiring Voices benefit from access to exclusive Guideposts marketing services, with select titles appearing in a special collection at Guideposts.org. For more information on publishing with Inspiring Voices, log on to inspiringvoices.com or call 866-697-5313.
###