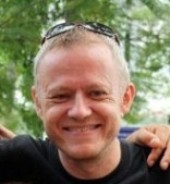 "We are thrilled to have Tim join us in our Bangkok office to build our rapidly growing Asia/Pacific client base."
Bangkok (PRWEB) October 04, 2012
Remote Lands, the world's leading ultra-luxe Asia travel designer, is delighted to announce the appointment of Tim Russell as Director of Sales & Marketing for the Asia/Pacific region. Based in the company's Bangkok office, Russell is responsible for developing the company's B2B and B2C business, building its client base of high-end local residents and in the Asia/Pacific region from Japan to Australia.
Russell has over 20 years' experience in the tourism industry in the UK, France and most recently Vietnam, where he lived for nearly 10 years and looked after Remote Lands' ground arrangements since 2010. "I'm delighted to be joining such a committed and knowledgeable team of Asia experts" he told us, "and I am sure that my extensive travel experience in the region and my large network of contacts will help Remote Lands become as successful in Asia/Pacific as they already are in the US & Latin American markets."
Catherine Heald, Remote Lands' co-founder and CEO told us: "We are thrilled to have Tim join us in our Bangkok office to build our rapidly growing Asia/Pacific client base. Tim's new team will focus on the immense market of Asia/Pacific UHNWI's who wish to travel in ultimate style, and are in need of a high-end Asia specialist who understands their discerning needs."
For more information, please contact Tim on tim(at)remotelands(dot)com
About Remote Lands, Inc.
Remote Lands, Inc. creates highly personalized, ultra-luxe holidays in Asia, optionally by private jet or yacht. Based in New York and Bangkok, we specialize in extraordinary experiences that are difficult to arrange and require privileged access to important people and exclusive events, drawing upon our relationships with remarkable people around Asia. We distinguish ourselves with our white-glove service, creative itineraries and extreme attention to detail.
Remote Lands has been featured in The New York Times, The Wall Street Journal, Departures, Travel + Leisure, Condé Nast Traveler, Town & Country, the BBC, Fox Business News, Financial Times, National Geographic Traveler, W, Newsweek, Forbes, BusinessWeek and more.
Remote Lands' destinations include: Bhutan, Cambodia, China, India, Indonesia, Japan, Laos, Malaysia, the Maldives, Mongolia, Myanmar (Burma), Nepal, North Korea, Papua New Guinea, the Philippines, Singapore, South Korea, Sri Lanka, Thailand and Vietnam.