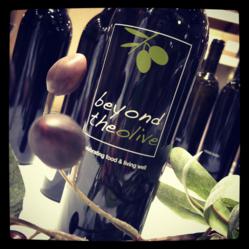 Pasadena, CA (PRWEB) October 03, 2012
In the mid-1970's the California wine industry came into prominence after beating French wines in international competition. Today marks a seminal moment for the evolution of California Olive Oil. Beyond the Olive, a specialty food shop located in Old Pasadena, was recently recognized as one of the best places for extra virgin olive oil…in the world, beating out similar boutiques in France, Greece and Italy. The store, which sells extra virgin olive oil (or EVOO) exclusively from California producers, was recognized by the OliveOilTimes.com, a site dedicated to the heart healthy super food.
The distinction of Beyond the Olive being a mecca for everything Olive Oil comes as no surprise to owner Crystal Reibel, "With over 600 olive oil producers right here in California, we have a vast selection of wonderful oils to choose from". Opened in 2009, Beyond the Olive has quickly established itself as a pioneer in the advancement and education of California EVOO, "While our large selection might be overwhelming at first, having the ability to sample the products with our customers allows us to quickly hone in on the flavor profile they prefer". And the community has responded, voting Beyond the Olive the "Best Specialty Food Store in Pasadena", two years in a row.
Beyond the Olive, located in Pasadena, California, specializes in the education, tasting and purchasing of high-quality California extra virgin olive oils, gourmet vinegars, specialty food products and other related merchandise. Beyond the Olive, a family owned business, opened its doors in 2009, and has the area's largest selection of California EVOO and gourmet vinegars. Their mission is focusing on the education of their customers on the production and unique properties of EVOO (flavors, pairing with food, etc) to provide consumers with the knowledge to accurately assess the quality of extra virgin olive oil. The store has also been recognized as environmentally conscience, through their refillable bottle program.
Beyond the Olive:
10 N. Raymond Ave.
Pasadena, CA 91103
(626) 844-EVOO (3866)
http://www.oliveoiltimes.com/olive-oil-basics/best-olive-oil-shops/28600/2