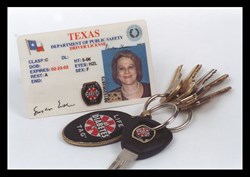 Wearing medical identification like LIFETAG can save your life.
El Paso, Texas (PRWEB) October 04, 2012
LIFETAG Medical Identification Jewelry , founded in 1996 by Susan Eisen, a jewelry designer in El Paso, Texas diagnosed with Type 1 diabetes, is the first company in the nation to offer free shipping on all orders of its products listed on http://www.lifetag.com, and http://www.amazon.com. The company designs and creates fashion forward medical identification jewelry for people who do not want jewelry that will advertise their medical condition and who desire to have jewelry that complements their wardrobe and is fashionable to wear. LIFETAG medical identification jewelry was the first company in the US to sell attractive medical identification jewelry in trendy silver, gold, diamonds, leather, silicone, and stainless. Designed by a jewelry designer who refused to wear the jewelry that was on the market when she was diagnosed in 1988, the styles are fun to wear, in style, and something that will accent the personality of the wearer without advertising their medical condition.
LIFETAG medical identification jewelry has been selling online since 1991 and is the first company to offer free shipping to all its customers on all orders. The company provides stick on charms, key chains, money clips, do-it-yourself-kits, shoe tags, wallet cards, car decals, usbs, temporary tattoos, zipper pulls, bracelets and pendants in yellow and white gold, silver and other metals for people with medical conditions including Type 1 and Type 2 Diabetes, Emphysema, Heart conditions including Pacemaker and Hypertension,Hemophyliac, Lymphedema, Seizures, Allergic to penicillin and certain foods, Asthma, Coumadin, DNR, and Epilepsy . Susan Eisen, a jewelry designer in El Paso Texas said "When I was diagnosed, it was my goal as a contemporary jewelry designer to create something that people would enjoy wearing, not something they would resist wearing because it was not attractive" she said. "Many people want to wear medical identification jewelry but feel the styles are too blatant and advertise their medical condition, and I wanted to create something that is fashionable to wear and complements their personality". Her major creation was the stick on medical identification charm that sticks on to a driver's license, medical card, keys, cell phone, or Ipad and is affordable at $33.95 on http://www.lifetag.com. "No other medical identification is available for such an economical price and having it on you during a life threatening situation can avoid major costs in an emergency diagnosis and possibly save your life" she said.
The purpose of wearing medical identification jewelry is to notify the emergency personnel or first responder of the already diagnosed medical condition of the patient. Knowledge of the known condition of the patient will save time for diagnosis, and prevent needless medical testing if the patient is found unconscious or in a serious state. Wearing medical identification jewelry is a way to save a patient's life without spending needless time searching for a diagnosis that may be incorrect. If more patients with serious medical conditions wore medical identification, the recovery rate would be quicker and the cost for emergency medical treatment would be more affordable. LIFETAG medical identification jewelry holds three trademarks and one patent and is available in El Paso at Susan Eisen Fine Jewelry and Watches in El Paso Texas. LIFETAG was the first company to feature fashionable and trendy medical id when the selection in the market was minimal, with only clunky id that advertised to everyone about the wearer's medical condition. LIFETAG has exhibited at the AADE conference since 2000 and is well known throughout the medical community for offering affordable medical identification jewelry for those in need. For more information, nurses, medical professionals, hospitals, and doctor's offices can call 1888LIFETAG for brochures to give their patients, or consumers can ask questions online at http://www.lifetag.com.