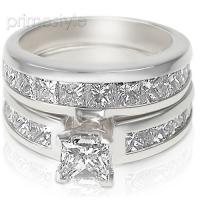 Primestyle.com was created to offer you a new way of shopping for the finest jewelry and diamonds that compliment your lifestyle
(PRWEB) October 04, 2012
PrimeStyle is an online destination where jewelry meets style and has become the favorite shopping hub for diamonds for the kind of attractive prices the myriad range of jewels come in. Diamonds are women's best friends and always rule the hearts of women. PrimeStyle offers a whole lot of items for the shoppers 50%-78% off retail prices on engagement rings making them a very lucrative buy.
Engagement days are special occasions to mark an agreement for lifelong commitment in the form of marriage. And the occasion can be made more special by exchanging engagement rings. The Princess cut engagement rings are one option that the shoppers have at PrimeStyle. When questioned as to why people should buy at PrimeStyle, the online stop's spokesperson replied, "Well, we make shopping for wedding ring sets and engagement rings a great delight without you having to step out of your home. That is a huge saving you make in terms of time, energy and fuel. We offer direct factory prices. That means you can get the most precious of items at highly affordable prices. We have a 30 days return policy. In case the item is not up to your expectation and you do not happen to like it, you may return the same to us as per the terms and conditions laid out by us on or before 30 days."
He also went on to say that in addition to the benefits mentioned, it is also very lucrative to buy at the online store for the store offers life time warranty on the products bought at PrimeStyle and PrimeStyle has won the tag of being a famous Green Jewelry manufacturer.
The online store is offering huge discounts and engagement rings that range around $3,600 are now available at $849. The store also houses great choice in the Princess Cut diamond engagement rings which the shopper could browse through and place an order. Stud earrings too are available at the store and the earrings are available in different shapes, cuts and carat sizes too.
Diamonds definitely can make wonderful Christmas gifts or special occasion gifts if money is not a constraint. Shop for great diamond rings to spring up a surprise or place an order for a custom ring at the store. In fact, the store offers a lot of range to choose from and stuff is available in the form of earrings, pendants, bracelets and rings. If money is an issue, one can definitely shop in the clearance section through which shoppers can clinch the best of deals at the store. For more details regarding engagement rings and wedding ring sets log on to http://www.primestyle.com.