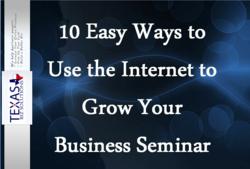 "Great class! I learned a lot of things I didn't know already about online marketing- and also found out a lot of online marketing I thought I was doing good - I was not. Thanks for the valuable information!" -Brandon S, YMCA of Tyler
Dallas, TX (PRWEB) October 05, 2012
Now that 97% of consumers are using the internet and/or their mobile phone to search for products and services, it is more important that ever for small business to utilize the power of the internet to help grow their business.
That is why Texas Biz Solutions, one of Dallas' leading online marketing firms is hosting a FREE seminar "The 10 Easy Ways to Use the Internet to Grow Your Business: in McKinney, TX on Wednesday, October 10th from 9am - 11am at their McKinney office location: 5900 South Lake Forest Drive, Ste 300, McKinney, TX 75070.
Topics they will cover include: 1) Website Best Practices, 2) Blogging for Business, 3) Facebook Marketing & Advertising, 4) Twitter Marketing for Business, 5) YouTube Marketing, 6) LinkedIn for Business, 7) Email Marketing for Success, 8) Search Engine Optimization, 9) Local Online Directory Management and 10) Effective Pay-Per-Click Advertising.
Seating is limited, so anyone wanting to attend must register. Registration for the event can be done online at: http://www.texasbizsolutions.com/seminars/ or by calling Texas Biz Solutions at (214) 494-8449.