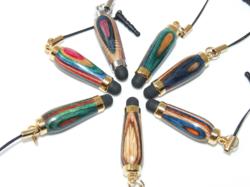 "I am very excited to have this collection of styluses available to our customers. I wanted to create a stylus that was very artistic , functional, and affordable. They make great gifts. I have had problems texting in the past, always hitting the wrong
Auburn, Ca (PRWEB) October 04, 2012
Woodjewelry.com announced that a new product line of hand made I-phone and android styluses will be unveiled at this weekends Harvest Festival in Ventura California booth V-06, at the Ventura County Fairgrounds.
The styluses are available in gold or chrome plating. They are made of durable laminated wood and available in 8 different colors. The stylus fits into the ear phone jack that is located on the top of the I-pone or android phones. The tip of the stylus is biometric and simulates the finger tip. The styluses are first turned on the lathe, then they go through a 7 step sanding and finishing process, before being assembled.
There are many benefits by using a stylus, such as making texting much easier. Also, it prevents scratches on the screen as well as working well with drawing programs.
Michael Bihler founder of Woodjewelry, exclaims, "I am very excited to have this collection of styluses available to our customers. I wanted to create a stylus that was very artistic , functional, and affordable. They make great gifts. I have had problems texting, always hitting the wrong letter. Now, it makes texting a breeze"
The price point for the styluses is $12.95. An additional product extension will also be shown at the harvest festival this weekend in Ventura as well. Styluses made of stone, available in Red Jasper, Turquois, Blue Lapis, Onyx, and Marble will be shown.
Michael Bihler had this to say about what customers have initially said about the styluses. " The initial response so far has been very favorable. One customer said that he can now use the stylus during a bike trip without taking off riding gloves. Another customer said she had a difficult time texting due to her long nails, now with the stylus she is able to text easily".
About Woodjewelry.com
Woodjewelry.com is a handcrafted wooden gift site with beautiful products that are well made and affordable. We also do laser engraving to offer personalization to many of our products.
Founded in August 2006 in Pleasanton, California. Woodjewelry.com is now basedin Auburn California.