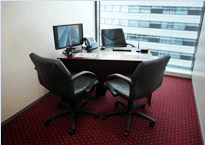 Servcorp has an answer to these burdensome and extraneous overhead costs. What's more, Servcorp is offering the solution as a 30-day Virtual Office trial.
Kuala Lumpur, Malaysia (PRWEB) October 05, 2012
Servcorp, with the inception of the Virtual Office Malaysia package, is able to provide the professional business environment and office infrastructure necessary to present a corporate image without the cost associated with seldom used or unnecessary components that accompany setup and use of a physical business office. In fact, Servcorp has such confidence that their Virtual Offices model provides all the business services a full-time office can, that they are offering the aforementioned 30-day Virtual Office trial.
With the advent of the Internet and the profusion of electronic communication tools, today's business practices are in a state of constant change. There are meeting rooms and boardrooms where individuals by virtue of technology are able to "meet" with customers, suppliers and corporate employees located in differing geographical locations without the expense, in both time and money, or the inconvenience of travel. There are virtually hundreds of applications allowing the businessperson to "plug" into the office via smart phones, laptops and tablets from anywhere in the world that their business requirements dictate.
What has not changed to any noticeable degree is the office. A business still uses offices, office equipment, support personnel for administrative functions, IT and communications infrastructure, and ad infinitum. Reducing overhead is essential to successful competition in the do-more-with-less business environment of today. Servcorp has an answer to these burdensome and extraneous overhead costs. What's more, Servcorp is offering the solution as a 30-day Virtual Office trial.
The 30-day trial includes all necessary communication services from a phone number with a dedicated multilingual receptionist at a location of your choosing to Servcorp's secure fax-to-email Onefax service. For meetings, both local and global, Servcorp provides meeting rooms and boardrooms with online meeting hosting and video-conferencing capabilities that are accessible through their online booking system. To complete the corporate image, the 30-day trial includes the use of an address at one of Servcorp's notable business locations that will appear on corporate correspondence and material requiring a mailing address.
For those that require a completely furnished office with full IT support services, Servcorp offers the Serviced Office package with two locations in Malaysia. Serviced Offices provide all of the components necessary for business in a physical location without any of the drawbacks normally associated with a physical office. Servcorp takes care of everything from infrastructure to reception and secretarial support services. Additionally, the Serviced Office provides an executive office suite, a reception and waiting area and a kitchen with coffee and tea provided. Communication services offer Cisco IP service, the latest in telephony technology.
ABOUT SERVCORP
Servcorp is committed to providing professional, leading-edge services to our clients. Our Malaysia Business Center offers Serviced Offices, Virtual Offices and meeting rooms in Kuala Lumpur. As a responsible resident, Servcorp partners with the community providing charitable contributions and services promoting both local and global goodwill. Additionally, Servcorp has global Business Center to serve our clients worldwide. For more information, please visit http://www.servcorp.com.my