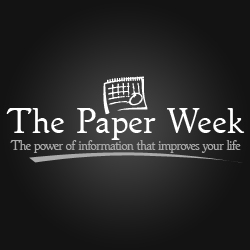 We want our website to be diverse and bring together brilliant minds coming from backgrounds.
(PRWEB) October 06, 2012
ThePaperWeek.com, a digital digest of weekly news and current events, has recently announced a new Editor-in-Chief. The online resource considers this a sign of progress as they only started only a few months ago. ThePaperWeek.com has started appointing more people who will help them manage the website and maintain the standard of their writing.
Growing Readership and Targeting More markets
"We are overwhelmed with the positive feedback from our readers," ThePaperWeek.com said gratefully. "We weren't expecting this much love from our readers, who actually come from different parts of the world." The news feature website credits its success to their readers who avidly share their articles and spread them through social media. "Our readers keep asking for more and that is why we brought on many contributors. We also added more sections on our website to capture the interest of more readers," ThePaperWeek.com added.
Managing Writers and Maintaining Quality Standards
"Our website used to have one of the contributors proofreading the articles from the other writers," the digital magazine shared. "Now we recently hired Quentin [Warner] to manage our writers and the article submissions every week." ThePaperWeek.com describes Warner as 'ideal' for the job given his experience in writing as well as passion for what he does. "Quentin offers a lot of new things for the website. He really is a writing machine and he can engage readers like no other writer can," the news resource shared. Warner is a freelance writer by profession but is well-versed and is familiar with Asian and European languages.
Preparing for the Future and Going Mobile
When asked about their plans for the website ThePaperWeek.com said, "We're planning to add more sections to the website such events and entertainment. We are also inviting more contributions from people across the globe. We want our website to be diverse and bring together brilliant minds coming from backgrounds." A mobile app is already in the works and ThePaperWeek.com is planning to go mobile early next year.
About ThePaperWeek.com
ThePaperWeek.com covers issues coming from different parts of the world. Its topics include education, finance, and technology among others. The digital digest is only a few months old. The website, however, have been warmly received by readers all over the world. This enabled them to gain traction and build a community in just a matter of weeks. For more information about the website, log on to http://www.thepaperweek.com.