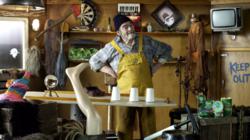 We want our customers to be able to discover the story behind their can as well as discover the wacky and crazy stories from out at sea
(PRWEB UK) 3 October 2012
John West has just launched a series of interactive stories on the John West YouTube channel, pushing the boat out in what is a first for both the brand and the industry.
The series of films, having already clocked up over 35,000 views in their first 2 days and rapidly rising up the YouTube comedy charts, are set aboard a John West trawler and let viewers click on a range of bizarre items in Old Sam's cabin to discover the story behind them – each story more outrageous and bizarre than the last.
With 29 different tales and a unique video for each, visitors to Old Sam's cabin can challenge him to a game of cups with a mystery outcome, can expect to see piñata whacking, seagull smashing, potion shlurping, crazy dancing, fortune telling and accordion playing - and can even pull the plug and destroy the YouTube page by flooding the cabin!
The interactive film fits in perfectly with John West's current 'Discover the Story' campaign, which lets consumers track their tuna or salmon back to the trawler that caught it.
Craig Gidley, Brand Manager at John West commented: "We want our customers to be able to discover the story behind their can as well as discover the wacky and crazy stories from out at sea". In this latest move, John West are delivering on that promise and are looking forward to finding out what the rest of the world think about Old Sam and his crazy life.
Anyone looking to visit Old Sam's cabin can find it at http://www.youtube.com/johnwestuk