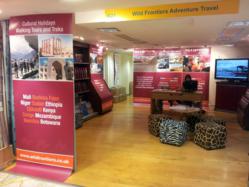 We are delighted that Wild Frontiers wish to participate in our themed idea and hope our travelling customers come to the interesting seminars to enjoy learning more about a fascinating part of the world.
London (PRWEB UK) 5 October 2012
Maps and travel guides retailer Stanfords is delighted to welcome Wild Frontiers, the recipient of the Best Ethical Travel Company accolade at the 2012 Guardian Observer Annual Travel Awards, to its flagship Covent Garden store's themed area for the duration of October.
The independent travel company, which specialises in tailor-made holidays to countries including India, Burma and Ethiopia, will offer Stanfords' visitors bespoke travel advice and host in-store talks from destination experts until 31st October.
To celebrate the partnership, Stanfords and Wild Frontiers have teamed up to offer a brand-new Kindle Fire preloaded with five classic travel books to one lucky winner - entrants need only to visit the Stanfords competition page to enter.
Commenting on the partnership, Chris Powell, Stanfords' Managing Director, said: "We have already had many interesting travel companies exhibit in our themed area, from Exodus to Discover the World, and this month Wild Frontiers are exhibiting their knowledge of the silk route from China through to Uzbekistan.
"We are delighted that Wild Frontiers wish to participate in our themed idea and hope our travelling customers come to the interesting seminars to enjoy learning more about this fascinating part of the world."
Wild Frontiers Travel Adviser Natalie Morris said: "Having worked closely with Stanfords for the last few years, we are really excited to be setting up a pop-up travel centre in the themed area. In the past we've given talks in the store about up-and-coming holiday destinations, which have been really successful - it's the ideal venue to fuel the travel bug.
"For us, October is going to a great opportunity to meet potential travellers face-to-face and talk about a variety of destinations. We also have talks planned by travel writer Jonny Bealby and Alan Curr, which we hope will encourage people to dust off their passports."
Wild Frontiers' presence will complement Stanfords' already-comprehensive collection of adventure travel guides and maps, with its Long Acre store accommodating almost 34,000 titles covering destinations in all four corners of the globe.
Wild Frontiers will focus on Uzbekistan, Tajikistan, Mongolia, China, India and Pakistan travel itineraries during its month-long tenure, with customers able to benefit from Stanfords' unrivalled collection of travel guides and maps to the central and east Asian destinations.
Alan Curr will be delivering a talk at Stanfords Covent Garden on his new book, Cricket on Everest, on Thursday 18th October. Jonny Bealby, Wild Frontiers' founder and the author of three books, will talk about his love of the Indian subcontinent at a separate event on Thursday 25th October. Both talks start at 18:30 and are free to attend - see the Stanfords events page for further information.
About Stanfords: Stanfords is the UK's leading specialist retailer of maps, travel books and travel accessories, having been established in 1853 by Edward Stanford. Its flagship store in Covent Garden, London, opened its doors in January 1901 and offers the world's largest stock of maps and travel books under one roof.
About Wild Frontiers: Founded in 2002 by travel writer Jonny Bealby, the award-winning Wild Frontiers offers tailor-made holidays and adventure tours to some of the world's most interesting and inaccessible destinations. It operates on an ethos of by travellers, for travellers.