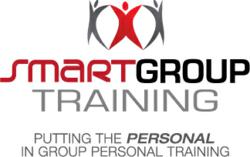 We believe that you can run semi private personal training sessions and still have a personal feel
Elizabethtown, KY (PRWEB) October 03, 2012
Fitness business coaching company Fitness Consulting Group is now partnering with Smart Group Training. Smart Group Training is a company dedicated to improving the quality and reputation of group personal training.
Founded by renowned personal trainers Steve Long and Jared Woolever, Smart Group Training provides personal trainers with tools and systems designed to improve their experience with group training.
"Fitness Consulting Group has been the gold standard in the fitness industry when it comes to helping fitness businesses grow," Long says. "Jared and I are proud to bring Smart Group Training to the FCG family and bring our knowledge of group training to personal trainers everywhere."
While Long is making his first foray into the fitness business coaching world, he has a storied career in the fitness industry. Having trained clients from ages 6 to 80 over the past 8 years, Long has won many awards and accolades for his achievements in the field of personal training.
Known for his practical approach to personal training, Long has specialized in functional fat loss, sports performance, injury prevention and rehabilitation, and lifestyle coaching.
"When it came time to forming and promoting Smart Group Training, I knew that I could use my experiences as a trainer to help other fitness professionals," Long says. "My skills in combination with Jared Woolever's knowledge and insight will provide trainers with the systems necessary to take group training to the next level."
Dedicated to bettering himself through evidence based research and continuing education, Jared Woolever helps his clients with everything from weight management, improving strength and flexibility to cardiovascular fitness.
"We believe that you can run semi private personal training sessions and still have a personal feel," Woolever says. "Of course, it requires more than just showing up and watching people exercise. You have to get involved and engaged with your clients even in a group setting."
Long and Woolever firmly believe in the transformative power of group personal training. They note that such training requires trainers to give hands on assessment and corrective exercises, to truly understand the bodies and needs of their clients.
Furthermore, both men advise that personal trainers adjust their exercises to fit their clients' needs, stressing the importance of modifications and progressions.
"In my many years in the fitness industry, I've found most trainers are either all in on one-on-one training or else they slap together a lazy group session," says Fitness Consulting Group co-owner Nick Berry.
"Steve and Jared are different," Berry continues. "They are revolutionizing the small group training industry with their innovative workouts and personal touch."
In addition to offering advice through its blog, Smart Group Training is currently offering a new product: "Smart Group Training Volume 1 – Screening and Corrective Exercise."
The product offers systems for screening groups of clients and incorporating corrective exercises into group training sessions.
For more information on the "Smart Group Training Volume 1 – Screening and Corrective Exercise," visit: http://smartgrouptraining.com/index.php/product/.
About Pat Rigsby and Nick Berry: Pat Rigsby and Nick Berry are the co-owners of Fitness Consulting Group, a leading business development consulting firm within the fitness industry.
Smart Group Training is part of the Fitness Consulting Group family of companies. It provides personal trainers, coaches, and business owners with tools to improve the quality and reputation of group personal training.
To learn more about Smart Group Training, visit: http://smartgrouptraining.com/