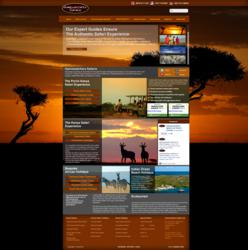 We are delighted with all the very positive comments from our customers about our new website which allows us to show the attractions of East Africa to a worldwide audience without the need for printed brochures.
(PRWEB UK) 3 October 2012
Gamewatchers Safaris are pleased to announce the launch of their new website offering bespoke safari holidays in Kenya and throughout East Africa.
An award winning safari tour operator with over 20 years' experience, Gamewatchers are leaders in the field and pioneers of their unique 'Conservancy Concept' which has enabled them to establish the four Porini Camps with the Maasai providing an income from wildlife conservation.
The new website features an overview of the parks and reserves in South and Eastern Africa, and includes Botswana, Rwanda, South Africa, Tanzania, Zambia, and Kenya. Gamewatchers also offer Indian Ocean beach holidays to Seychelles, Mauritius, Zanzibar, and Kenyan beaches. Beaches of the Indian Ocean are widely regarded as being amongst the best in the world, providing a relaxing ending to your safari adventure.
To help you find the right tour the site features many safari videos of the different camps on offer and the local Maasai tribes people in their day to day life. You can also access helpful pre-departure information such as maps, reading lists, packing suggestions, visa and health information and climate guides. The website even features a guide for taking the best photographs on safari with a list of recommended equipment and lenses to get the very best results and souvenirs of your trip.
If you are uncertain about who to book your dream holiday with you can get to know the team behind the adventure, from the safari consultants at the point of booking, to the founders who have been active in promoting tourism in Africa and the qualified safari guides who will be escorting you on your adventure. The knowledgeable safari consultants are on hand in the UK, US and Kenya to answer any queries and to help you book the safari of your dreams, tailoring the itinerary to suit your needs and budget. Gamewatchers Safaris are KATO bonded offering you complete security with your booking.
If you want to book a responsible holiday and are interested in ecotourism then you can find details of a variety of eco safari camps along with the eco-tourism awards that have been won. Gamewatchers Safaris have positively influenced the local communities by providing an income from their land through wildlife conservation. The Porini Camps employ the Maasai as guides, trackers and drivers as they know the land better than anyone and share secrets handed down by generations enabling visitors to have a unique and authentic experience. Staff are paid a significantly higher than average wage and funding is supplied for local schools.
For the latest safari news and information, Gamewatchers are on Facebook, Twitter, Google+, and Pinterest which are all linked to the site, so even if you're not actively looking for a safari holiday, you can still have all the news at your fingertips.