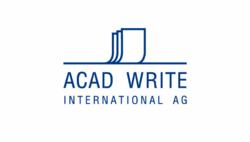 Manchester (PRWEB) October 05, 2012
ACAD WRITE is one of the largest international ghostwriting agencies. Ever since the company was founded in 2004, we have been offering our customers all-round support in producing academic texts of all kinds. We recently received our 6000th project. We are using this landmark as an opportunity to thank all of our customers who have put their trust in us in the past. We see the continuous growth in the volume of projects we receive as impressive confirmation of the quality of our work to date.
We know that every one of these 6000 projects is also an expression of the special trust that is essential for the relationship between academic ghostwriter and customer. Our business success is thus based on the central promises that we keep in every project, without exception: absolute discretion, high quality and an unconditional commitment to deliver on time.
Further expansion
ACAD WRITE was established as a German company and initially operated exclusively in the German market. Numerous requests from neighbouring countries soon encouraged us to offer our services in the whole of the German-speaking world. In 2009, ACAD WRITE International AG was founded, with its base in Switzerland. In relocating our company headquarters to Switzerland, we were reflecting both the internationalisation of our business and the increasing erosion of data protection in Germany. We are currently opening up new markets in non-German-speaking countries. As part of this expansion strategy, we have set up more branch offices and we are extending our base of authors to include English-speaking ghostwriters.
New services
ACAD WRITE is always working to improve its services. We offer a plagiarism checking service, which is available free of charge and not only to our customers. The ACAD OFFICE service, which is about to go online, is designed specifically for our customers. Here, customers can check the progress that has been made on their project and contact the ghostwriter at any time - including anonymously.