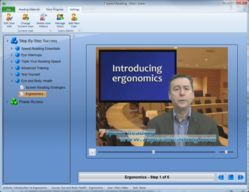 They put 7 Speed Reading through the paces of some very strict tests on its ease-of-use, the research behind its program, and much more
New York City, NY (PRWEB) October 06, 2012
A recent list of the top ten speed reading software products was very favorable to 7 Speed Reading indeed. Of the ten speed-reading software products reviewed and listed, 7 Speed Reading came out on top in every single category. It was considered to be the best speed reading software available today. TopTenReviews.com is one of the most trusted online sources for breaking a product down to what works, what doesn't, and what's best for the consumer. They put 7 Speed Reading through the paces of some very strict tests on its ease-of-use, the research behind its program, and much more. In every possible area 7 Speed Reading blew the competition away.
One of 7 Speed Reading's greatest strengths, as listed on the recent review, is their features. Everything offered on 7 Speed Reading far outdistances the competition by leaps and bounds. The review mentions such pluses as methods and material (including the massive number of eBooks available to users, the ability to import additional documents, the use of the Flash/Tachistoscope, the ability to display full text, and so on). Other aspects of the review focused on the software's features (an unlimited number of users and a usability score of 100%), and the incredible and reliable user support (telephone and email customer service, FAQs etc.). In addition, the reviewers were very impressed with the software's seemingly limitless offering of exercises and tests, especially the multi-user capability so that test scores could be individually tracked. TopTenReviews.com also cites the fact that 7 Speed Reading includes reading levels for beginners, intermediate readers, and advanced users, and that the software has supported configuration with virtually every Windows operating system out there.
The 9.80 score is impressive, and there are even more things about 7 Speed Reading that TopTenReviews.com highlights than are mentioned above, but what readers will come away with from reading the list is this: 7 Speed Reading is the best anyone could ever ask for in a speed reading software. Their features, accessibility, and support make it the best in its field.
To find out more and get on the road to better speed reading today, please visit:
About 7 Speed Reading™
7 Speed Reading is the only modern speed reading software that uses the latest technology to produce superior results.
The software provides its users with a new way to master speed reading that guarantees three times the reading speed along with improved memory and comprehension.
The software is poised as the most comprehensive speed reading system anywhere. It contains seven learning strategies, fifteen software activities, video training, advanced tracking capabilities and many more exciting features.