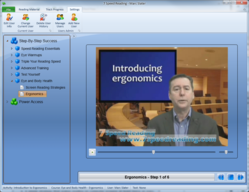 ...the software is useful to anyone regardless of their level of expertise in speed reading or their understanding of the software.
New York City, NY (PRWEB) October 08, 2012
Software Review Boffin definitely knows their stuff – the site is trusted because of their history of accurate, in-depth, and customer-centered product reviews. With that in mind it makes sense to believe that they did those same comprehensive tests before they voted 7 Speed Reading #1 in a recent poll of the best speed reading software available on the market. This should come as no surprise to anyone who has ever used 7 Speed Reading before. Many speed reading software reviews have already pointed to 7 Speed Reading as one of the best in a strong field of competitive tools. Software Review Boffin just cements 7 Speed Reading as the best of the lot. Anyone who has already used this amazing, diverse software will already agree with this. Anyone who hasn't used this software needs only to read the accolades contained on review sites like Software Review Boffin to get an idea of what they're missing out on.
Reading the review, it quickly becomes obvious why Software Review Boffin rated 7 Speed Reading as #1. The site has found a lot to praise in 7 Speed Reading's design, ease-of-use, functionality and much more. 7 Speed Reading has built its reputation on promising favorable results in a short amount of time, and Software Review Boffin confirms that they live up to this reputation. They add that one of 7 Speed Reading's most attractive features is its ability to be useful to anybody who wants to employ it, no matter their current reading level. What's more, the software is useful to anyone regardless of their level of expertise in speed reading or their understanding of the software. This is because 7 Speed Reading sets itself apart from the rest by using extremely advanced scientific research that is accessible in a way that is both user-friendly and straightforward. They point to this as one of 7 Speed Reading's strongest assets, and one of the biggest reasons why it continues to top critics' lists year after year.
To find out more and get on the road to better speed reading today, please visit:
About 7 Speed Reading™
7 Speed Reading is the only modern speed reading software that uses the latest technology to produce superior results.
The software provides its users with a new way to master speed reading that guarantees three times the reading speed along with improved memory and comprehension.
The software is poised as the most comprehensive speed reading system anywhere. It contains seven learning strategies, fifteen software activities, video training, advanced tracking capabilities and many more exciting features.