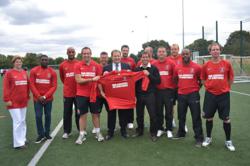 The move follows Andrews Sykes' recent announcement about becoming the new official shirt sponsor for Charlton Athletic Football Club for the 2012/13 season
(PRWEB UK) 4 October 2012
Andrews Air Conditioning has announced that it has become an official partner of the Charlton Athletic Community Trust.
Andrews Sykes Group, of which Andrews Air Conditioning is the specialist hire division, has been based in Charlton for over 80 years and this move will see the company support a local charity in its work to improve the lives and the environment for people in the area.
The move follows Andrews Sykes' recent announcement about becoming the new official shirt sponsor for Charlton Athletic Football Club for the 2012/13 season. The community programme at Charlton Athletic Football Club was established in 1992 and became The Charlton Athletic Community Trust in 2003.
Andrews Air Conditioning will act as the Official Kit Sponsor of the trust with its logo displayed on all kit worn by the trust's staff. The trust delivers a number of innovative programmes through a regular presence in schools; working with disadvantaged or socially excluded groups in society; through crime reduction initiatives and community based football coaching sessions. It has five key aims to raise educational achievement, create pathways to employment, build healthier lifestyles, bring communities together and reduce crime.
Trust CEO Jason Morgan commented: "It's great to agree terms with Andrews Air Conditioning. To have a local business support our work and come on board with the trust as a kit sponsor is fantastic."
Paul Wood, Managing Director of the Andrews Sykes Group, said: "Through the Olympics, this summer has clearly shown us all how powerful sport can be. We're delighted to be involved with the Charlton Athletic Community Trust who deliver vital work, much of it via a football related theme, to improve our local community and the prospects for those who live here. No matter how far and wide the Andrews Sykes brand spreads around the world, Charlton will always feel like home and we hope to make a real difference in supporting the trust's work."
For more information about Andrews Sykes please visit http://www.andrews-sykes.com.