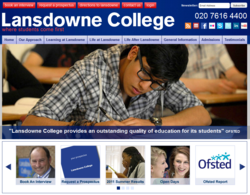 Lansdowne is full of stories like this. It is where students who are willing to work hard and follow advice and instructions get to pursue their dream career by studying at their chosen university
London, UK (PRWEB UK) 4 October 2012
Lansdowne Sixth Form College, London had eight former students start Veterinary, Medicine and Dentistry courses at university this year after achieving top grades - what was most remarkable is that they were all re-take students.
Lansdowne has a reputation for encouraging students to perform to their full potential with a unique educational atmosphere at the London based college. By encouraging self development the college routinely boasts exceptional pass rates for the students that come here to study A levels and re-take A level and GCSE Courses.
Examples of the recent successes are as follows:
HK was not supported at her previous school and was told she should not apply to Dentistry. She came to Lansdowne, re-took some of her A levels in one term and the rest in one year, achieved grade A in all of them and has started Dentistry in Sheffield University this year.
PS had achieved high grades at A level in mostly Humanities subjects and had started a degree in English at a very good university. However, she found out soon after that she wanted to be a dentist above all else. She was brave enough to leave the course and come to Lansdowne to study Biology and Chemistry in one year. She achieved A* and A in her subjects and has just started Dentistry at Birmingham University, pursuing her dream.
TH had many family problems and issues that prevented him achieving the grades he deserved. He came to Lansdowne and re-took units in three subjects, achieving A in all of them. He had three interviews and finally settled on Peninsula to study for a medical career he has dreamed about for a long time.
Dr Pantea Etessami (the Director of Lansdowne's Medical Programme said "Lansdowne is full of stories like this. It is where students who are willing to work hard and follow advice and instructions get to pursue their dream career by studying at their chosen university. It is always a true pleasure to see on their faces the happiness and the confidence this achievement brings. I would like to wish all our students starting university this year a lifetime of success."
For more information about studying at Lansdowne Sixth Form College in London, please visit http://www.lansdownecollege.com, call 020 7616 4400 or complete our contact form online.