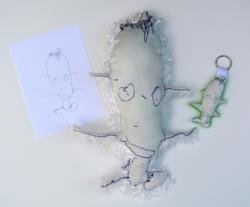 "It is exactly what my son's artwork looks like! Now I want to get even more. The price was more than reasonable. Thank you, thank you, thank you!!"
Needham, MA (PRWEB) October 05, 2012
Happy Doodles is proud to announce the expansion of their product line to include new sizes of custom stuffed toys. Happy Doodles are custom-made from children's own artwork, so they are literally one-of-a-kind gifts for kids, and they now come in a variety of sizes and price points.
"The best ideas come from our customers," says founder Heather O'Neil. "The most popular size is our 12" stuffed toy, which makes a very special Christmas or Hanukkah gift. Our customers asked if we could also offer smaller Happy Doodles at a lower price, so we introduced a 4" version for key chains, Christmas ornaments and backpack decorations. They make fun stocking stuffers! Gift certificates are another great option, so the child can pick his or her favorite artwork to make into a stuffed toy."
Now is a good time to order Happy Doodles, O'Neil adds, for holiday gifts for kids. Customers can go to Happy Doodles' website to order a custom-made stuffed animal or a gift certificate.
For more information about Happy Doodles, or to order a custom stuffed toy or gift certificate, visit http://www.happydoodles.com.
About Happy Doodles:
Happy Doodles was founded by Heather O'Neil in 2012. Located in Needham, Massachusetts, Happy Doodles celebrates kids' creativity by custom-making stuffed toys from children's artwork.