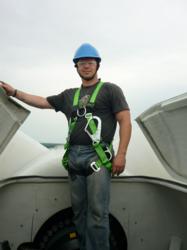 (PRWEB) October 05, 2012
To increase awareness and participation in the lucrative wind turbine technician field, administrators from Kalamazoo Valley Community College are hosting an informational session in Urbana, Illinois about upcoming training opportunities at the Kalamazoo, Michigan college's Wind Turbine Technician Academy. The session begins at 6:30 p.m. on Oct. 8 at the Holiday Inn Champaign/Urbana, 1001 Killarney Street, Urbana, IL.
The 24-week academy is held at Kalamazoo Valley Community College's campus at The Groves, 7107 Elm Valley Drive, Kalamazoo, MI. The school provides a fast track to high demand, high paying jobs. Wind Turbine Technicians play key roles in the operation and maintenance of power-generating wind turbines. A Wind Turbine Technician is needed to maintain every 10 turbines in existence, according to Cindy Buckley, Executive Director of Training and Development at Kalamazoo Valley Community College.
The next academies begin on January 3 and July 8, 2013. Pat Tritschler graduated from the WTTA in June 2011 and was offered a job two months prior to graduation. "I graduated from KVCC on June 30, 2011, and started work July 4," Tritschler said. He went to work for Vestas, a well-known, global wind technology firm, located in Ellsworth, IL, where he steadily and quickly advanced. Passing the international BZEE Certification accentuated his employability. He was promoted from a Tech 1 to Tech 2 within six months of employment, reflecting tremendous ability and career potential.
Operators of wind farms and wind turbine manufacturers report that quality technicians are difficult to recruit. With the push in this country to generate twenty percent of our energy with wind by 2030, the demand for highly trained technicians will only increase. Because of the shortage, most companies require overtime of up to 30 hours per week. Technicians start out earning in a range from $30,000 to $45,000 annually before overtime and benefits. General contractors hire technicians for the work of setting up and commissioning new turbines. Manufacturers, operation and maintenance firms hire technicians for predictive maintenance and troubleshooting.
Kalamazoo Valley Community College has established a competency-based program which will provide graduates with credentials that are highly sought after by the wind power industry for construction, operation and maintenance of utility size wind turbines.
The WTTA is designed to ensure that graduates have demonstrated mastery of core technical skills essential to perform effectively and safely as an entry level wind turbine technician. Program content aligns with the knowledge and skill requirements for success in manufacturers' training programs where proprietary systems are explored.
The units of study which make up each module are presented in a sequence which assures a theoretical foundation and an opportunity to practice using the technology in the learning lab. The program of study combines lecture, demonstration, and laboratory exercises to facilitate learning. Safe work practices are stressed and consistently practiced.
The KVCC WTTA is certified by the Bildungszentrum für Erneuerbare Energien (BZEE) (pronounced B - Zed - E - E), headquartered in Husum, Germany. This premier wind turbine technician training organization was founded in 2000, through the work of a consortium of leading wind turbine manufacturers in Europe. Industry leaders continue to guide and direct the curriculum which adjusts frequently to the changes in technology and with research-based process improvement. The BZEE is recognized internationally as the premier training provider for Wind Turbine Technicians in Europe and North America. The world's leading wind turbine manufacturers, as well as logistics and maintenance firms developed the standards and provide on-going input and support. These relationships assure BZEE certified Wind Turbine Technicians have the skills and competencies required by employers.
Academy graduates will earn a Kalamazoo Valley Community College Certificate of Completion; a Transcript of Competencies verifying assessment in more than 35 areas; and BZEE Wind Turbine Technician Certification. Graduates will also be afforded the opportunity to earn a certification through the BZEE. They will become part of an international pool of certified technicians from which employers search for workers to hire.
For more details about the academy, go to http://www.kvcc.edu/training or contact Cindy Buckley, cbuckley (at) kvcc (dot) edu, 269-353-1250.