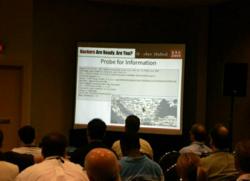 Hacker Halted USA 2012 includes over 50 talks from top companies like ESET, RSA, SAIC, WhiteHat Security, Qualys, VMWare, Damballa, Foundstone, Stach & Liu and more.
Miami, FL (PRWEB) October 04, 2012
A new report by McAfee shows that malware threats are the worst they've been in at least four years, with over 1.5 million new virus, worm and Trojan samples collected since the start of 2012. As companies and organizations prepare to defend themselves in an increasingly dangerous online environment, knowledge and training are the keys to success - along with strong leadership from qualified chief information security officers (CISOs).
The timing couldn't be better for EC-Council's fourth annual Hacker Halted information security conference, which is being held October 29-31 in Miami, Florida.
This year's conference includes top speakers from the information security industry; new research into exploits, threats and vulnerabilities; top-notch ethical hacker training from the Hacker Halted Academy; the second annual Global CISO Forum with 80 top U.S. information security executives; and the Global CyberLympics championships with top ethical hacker teams.
"Over the last few years, Hacker Halted has evolved into a leading information security conference for the East Coast and we're pleased at the high caliber of this year's keynote speakers and presentations," said Jay Bavisi, president of EC-Council, the organizer of Hacker Halted. "Attendees of Hacker Halted can count on high-level talks from the industry's foremost experts and the latest research into new threats and defenses, plus top-notch training from leading infosec experts. This year's event should be particularly interesting with cutting-edge talks on mobile security, cloud security and other important issues."
Here are the key highlights of this year's Hacker Halted:
Keynote Speakers:

Philippe Courtot, chairman and CEO of Qualys, former chairman and CEO of Signio (acquired by VeriSign), and former member of the Board of Trustees for The Internet Society. He is an SC Magazine Editor's Award winner and co-founder of the CSO Interchange.
Jeremiah Grossman, CTO of WhiteHat Security, founder of the Web Application Security Consortium (WASC), and one of InfoWorld's Top 25 CTOs for 2007. He is co-author of "XSS Attacks: Cross Site Scripting Exploits and Defense."
Winn Schwartau is the president of Interpact, Inc., a security awareness consulting firm, and the author of "Information Warfare," "CyberShock," "Time Based Security" and "Internet and Computer Ethics for Kids."
Jeffrey Bardin is chief intelligence officer of Treadstone 71 and sits on the board of directors for Boston Infragard. He is a founding member of the Cloud Security Alliance a professor of masters programs in cyber intelligence/counter-intelligence at Utica College. He's a featured columnist on CSO Magazine.
Jack Daniel, product manager for Tenable Network Security, has over 20 years experience in network and system administration and security, and has worked in a variety of practitioner and management positions. He co-founded and organizes Security B-Sides events.
Matt Watchinkski, vice president of vulnerability research for Sourcefire, manages the Vulnerability Research Team (VRT), which is comprised of security research experts who discover, assess and respond to the latest trends in hacking activity, intrusion attempts and vulnerabilities.
Richard Thieme is a business consultant, writer, and professional speaker focused on "life on the edge," in particular the human dimension of technology and the work place, change management and organizational effectiveness. He is a contributing editor for Information Security Magazine.
Talks:
Over 50 talks will be given at Hacker Halted USA, divided into three tracks:
"What's Hot" Track – Top subject matter experts provide cutting-edge presentations on key aspects of information security, including application security, end point security, mobile security, physical security and more. Experts with presentations in this track come from such companies as Facebook, ESET, Hewlett-Packard Software, Foundstone, Stach & Liu, Damballa, NetClarity, Bulb Security and Parameter Security.
"Cut the Crap, Show Me the Hack" Track – This track received rave reviews at its debut in 2010. It is a highly technical track featuring no-nonsense technical security experts who demonstrate the latest hacks, reveal new zero-days, and showcase the most current threats and vulnerabilities. Experts with presentations in this track come from such companies and organizations as Qualys, Deloitte, Application Security Inc., Ptrace Security, AppSec Consulting, Parameter Security, Sequrit CSI, CESI and more.
"Up in the Clouds" Track - A new track that debuts at this year's conference, highlighting the latest research in cloud and virtualization threats and solutions for today's companies and organizations. Experts with presentations in this track come from such companies and organizations as SAIC, HP Enterprise Security Solutions, VMware, Department of the Treasury, World Wide Technology, Catbird, CloudJacket Security, Hytrust and more.
For a complete list of presentations, with links to speaker bios and topic abstracts, visit: http://www.hackerhalted.com/2012/Presenters.aspx.
Cloud Security Panel:
Sponsored by Dark Reading, Hacker Halted's "Cloud Security Panel" will offer a presidential-style debate on the top issues and threats facing the cloud, with 13 leading experts from security firms, cloud software vendors, cloud providers and the federal government. Companies and organizations participating include: VMware, U.S. Department of the Treasury, Hewlett-Packard Software, CA Technologies, TW Telecom, World Wide Technology, International Computerware, Coalfire and more.
The cloud security panel will be held on October 30th.
Training:
Hacker Halted Academy, in conjunction with its Center of Advanced Security Training (CAST), will host 14 advanced training courses for IT security professionals. These classes include:
Certified Ethical Hacker version 7 (CEHv7)
Certified Security Analyst/Licensed Penetration Tester (ECSA/LPT)
Computer Hacking Forensic Investigator (CHFI)
CAST 611 - Advanced Penetration Testing
CAST 612 - Advanced Mobile Hacking & Forensics
CAST 613 - Advanced Application Security
CAST 614 - Advanced Network Defense
CAST 615 - Hacking "Secure" Encryption and Countermeasures
CAST 616 - Securing Windows Infrastructure
CAST 617 - Advanced Metasploit Decoded
Wireless & Bluetooth Hacking 101
Cyber Intelligence
Official (ISC)2 CISSP CBK Review Seminar
Megumi Takeshita's Wireshark for Secure Ninjas
For details on the training classes available at Hacker Halted, visit http://www.hackerhalted.com/2012/Training.aspx.
Plus:
Global CISO Forum: Over 80 CISOs from top companies and organizations will participate in this second annual event. The CISO Forum is held at the same general time and location as Hacker Halted, and runs from October 29-30. Companies and organizations represented at this year's forum include Yahoo!, IBM, Motorola Mobility, News International, TransUnion, Sallie Mae and more.
Global Cyberlympics Championship: The first-ever international ethical hacking team competition returns for its second year, with the global championships to be held October 29th at Hacker Halted.
Hacker Halted USA 2012 is October 29 - 31 at the Florida Intercontinental Hotel in Miami. For more information about Hacker Halted, visit http://www.hackerhalted.com.
ABOUT HACKER HALTED:
EC-Council's flagship information security conference, Hacker Halted, aims to raise awareness toward increased education and ethics in information security. This information security conference series covers in-depth topics into the development of security issues plaguing the world. Hacker Halted features many world-renowned subject matter experts and high-level speakers, as well as some of the best technology companies showcasing their products and services. Hacker Halted provides the most sought after technical training and certification classes offered through Hacker Halted Academy by top training companies and led by well-respected instructors. Hacker Halted has grown; from a single annual conference in Miami to a global conference series with events held in Malaysia, Dubai, Egypt, Singapore, Mexico, and Japan since its inception in 2009. For more information about Hacker Halted, please visit: http://www.hackerhalted.com/2012.
ABOUT EC-COUNCIL:
The International Council of E-Commerce Consultants (EC-Council) is a member-based organization that certifies individuals in various e-business and security skills. EC Council is the owner and developer of the world-famous E-Council Certified Ethical Hacker (CEH), Computer Hacking Forensics Investigator (C|HFI), Certified Security Analyst (ECSA), License Penetration Tester (LPT) programs, and various others offered in over 60 countries around the globe. These certifications are recognized worldwide and have received endorsements from various government agencies including the US Federal Government via the Montgomery GI Bill, and the US Government National Security Agency (NSA) and the Committee on National Security Systems (CNSS) certifying EC-Council's Certified Ethical Hacking (CEH), Network Security Administrator (ENSA), Computer Hacking Forensics Investigator (CHFI), Disaster Recovery Professional (EDRP), Certified Security Analyst (E|CSA) and Licensed Penetration Tester (LPT) program for meeting the 4011, 4012, 4013A, 4014, 4015 and 4016 training standards for information security professionals and most recently EC-Council has received accreditation from the American National Standards Institute (ANSI). For more information about EC-Council, please visit http://www.eccouncil.org