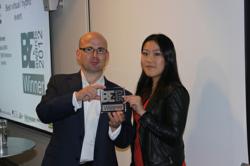 We were looking for an engaging and educational way to connect with the AEC community and discuss the adoption of collaborative BIM in a public forum.' - Sophie Lam, Marketing Manager, Asite
London (PRWEB UK) 4 October 2012
The Be2Awards is organised by Be2camp who advocate helping the architecture, engineering, construction (AEC) and related industries think about and deploy Web 2.0 tools and techniques, and took place during London's Social Media Week 2012.
The winning campaign - the Collaborative BIM Webinar Series; was a twelve month campaign that featured six live webinars exploring a variety of issues on building information modelling (BIM) across the breadth of the AEC industry.
The webinars discuss issues from the basics of BIM to its successful implementation, benefits, challenges, practicalities, legalities and understanding it within other remits such as Facilities Management. AEC experts with significant experience deploying BIM were specifically selected to speak and share their expertise to a live audience across the globe. High profile speakers include David Philps, Head of BIM Implementation for the Cabinet Office; Martin Bailey, Chief Innovation Officer at NG Bailey; Mark Thompson, Director at Ryder Architecture; Frank McLeod, Director at WSP UK; Duncan Reed, Design Manager at Balfour Beatty, including Asite's CEO and COO Tony Ryan and Nathan Doughty amongst others.
Sophie Lam, Marketing Manager at Asite commented: 'Asite are delighted with this award. We started the webinar series with Building Magazine because we wanted an engaging way to help the AEC industry tackle the issues and challenges that greatly impact upon their business and its competitiveness. We were looking for an engaging and educational way to connect with the AEC community and discuss the adoption of collaborative BIM in a public forum. Doing a webinar series made sense because they are live, interactive, easily accessible from mobiles and can be easily shared across social media. The hashtag #BIMSeries on Twitter was used over 500 times and was full of exciting dialogue.'
The webinar series attracted 7000 registrants with approximately 1000 live attendees to each webinar, smashing all previous webinar statistics for Building Magazine and continues to drive an on-demand audience. To view the collaborative BIM series, simply register here to access all of the webinars.
About Asite
Asite helps businesses share information and build knowledge in a secure environment in the cloud. Every day, professionals all over the world use Adoddle to manage their projects and supply chains collaboratively and get the information they need when and where they need it. http://www.asite.com
About Building
Building is the UK's best-read, most established magazine in the construction industry. It was launched in 1843 as The Builder, by Joseph Alysius Hansom architect of Birmingham Town Hall and designer of the Hansom safety cab. Building once counted Prince Albert, Charles Dickens and Florence Nightingale among its readers. http://www.building.co.uk