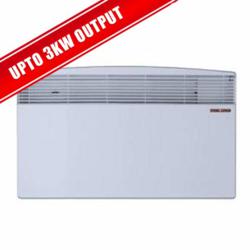 North Yorkshire, UK (PRWEB UK) 4 October 2012
CNM Online introduces a range of Bathroom Heaters that are truly inspirational. The supreme craftsmanship that has gone into the appearance and function of these powerful, attractive Bathroom Heaters is artistry at its very best. Equally suitable for the home or office environments. CNMOnline consider they have solved the age-old problem of heating what has always been the coldest room in the house - the bathroom. The people behind CNMOnline can offer a choice of Bathroom Heaters that will totally transform the coldest bathroom, and at the same time add to the decor of that room with effortless charm and panache. Why shiver in a cold bathroom this winter, when CNMOnline have the perfect solution? The clever designers of the Bathroom Heaters offered by CNMOnline, possess an innate ability to visualize exactly what is needed to bring warmth, comfort and style to cold bathrooms, no matter how big or how small they may be, CNMOnline have just the heater you are looking for. Why have a bathroom that you dread using because it's so cold and unwelcoming, when you can have one that is warm and cosy? The new and innovative Bathroom Heaters from CNMOnline are far removed from the old style heaters, which gave out little heat, and were ugly and unsightly to look at. The new modernistic designs of Bathroom Heaters now available make visiting the bathroom a pleasure, not an ordeal.
Some of the popular styles of Bathroom Heaters available from CNMOnline are:- Stiebel Eltron Wall Mounted Convector Heater, Dimplex PLX 24hr timer Panel Heater, Dimplex Thermostatic Panel Heater, Prestige All Electric Towel Radiator, Sunhouse Downflow Bathroom Fan Heater 2KW, Prestige Towel Radiator Chrome, Diva All Electric Towel Radiator Chrome, Dimplex Downflow Fan Heater, Mirage Slimline Panel Heater, Sunhouse Panel Heater,
Sunhouse Electric Towel Warmer and several others.
Many come with added towel rails which mean a warm bathroom, and comforting, warm towels to wrap around you after a bath or shower. CNMOnline have an exclusive range of heater accessories that are suitable for use with these Bathroom Heaters. Over the past few years CNMOnline have increased their online inventory and added many electrical and non-electrical products to their huge range.
All the products offered by CNMOnline are well received because of their superb quality, and many customers return again and again, because they know and trust CNMOnline.
For information regarding any of our products, or their installation in your home, please do not hesitate to Email or call us for assistance, and our team of advisors will be only too happy to help you.
Further information on any of the Bathroom Heaters mentioned here can be obtained by clicking on the following link: - http://www.cnmonline.co.uk/Bathroom-Heaters-c-2308.html