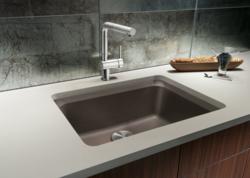 A unique chamfered rim edge delivers an intriguing appearance – making BLANCO VISION the focal point in any kitchen.
Lumberton, NJ (PRWEB) October 04, 2012
BLANCO, the German manufacturer of finely crafted sinks and faucets, debuts the BLANCO VISION designer sink in the SILGRANIT II series. Sleek, stylish and visionary, the high-end compact sink gives a whole new meaning to affordable luxury retailing at only $495. The unique chamfered rim is an intriguing design element creating a subtle focal point for an undermount sink. With a palette of 4 colors, the durable VISION SILGRANIT II sinks coordinate beautifully with a range of countertops and its patented surface won't scratch, chip, stain, burn or fade.
"BLANCO VISION's compact design and eye-catching style is perfect for smaller kitchens with limited space," states Tim Maicher, Director of Marketing for BLANCO. "The high-functioning VISION single bowl comes with a unique chamfered rim edge providing the ideal balance of form and functionality with plenty of space for large pots and dishes."
BLANCO VISION comes in four popular SILGRANIT II colors including Truffle, Biscotti, Anthracite and Café Brown. VISION retails $495.
Details

Substantial single bowl depth of 8"
Designed for 27" cabinets (18"w x 24"l)
Rear positioned drain
Heat resistant up to 536º F
Comes with limited lifetime warranty
About BLANCO
For three generations, BLANCO has quietly and passionately elevated the standards for luxury sinks, faucets and decorative accessories. Proud of its European heritage and award-winning German engineering, BLANCO is steadfastly committed to their tradition of high quality, innovative design and unsurpassed service since 1925. Today, BLANCO is the only supplier in the world to produce its own sinks from start to finish in three materials. Dedicated to quality without compromise, every sink is closely inspected many times before it receives the BLANCO name.
A remarkable history of firsts emphasizes BLANCO's zeal for innovation including the first stainless steel sink to achieve a 10mm radius –STEELART® – the first to market colored hard composite sinks in North America – and BLANCO's pioneering MicroEdge™ technology with its virtual flushmount edge.
BLANCO has a long tradition of environmental stewardship and their production facilities operate to strict DIN EN ISO 14001 environmental performance standards.
BLANCO is the brand of choice in the luxury sink and faucet category for its unparalleled quality and an inspirational breadth of design possibilities. From the precision craftsmanship and artistic creativity of its STEELART brand to the stunning durability of its ground breaking SILGRANIT® collection, BLANCO has proven that the sink is far more than a mere functional element in the kitchen.
Since 1994, BLANCO has been a member of the Caux Round Table (CRT), an international network of principled business leaders and companies working to promote a moral capitalism.
For more information, visit http://www.blancoamerica.com.
For photography, interviews or questions, please call Lori Dolnick at 609-490-0999 x22 or ldolnick(at)frankadvertisingus(dot)com.
# # #