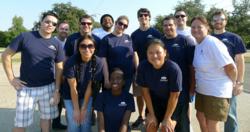 This was a great way for the Dallas team to have a lot of fun while supporting an amazing cause.
Dallas, Texas (PRWEB) October 18, 2012
Foundation Financial Group employees at its Dallas Regional Sales Center, located at 1903 Central Drive, participated in the National Ovarian Cancer Coalition Dallas Fort Worth Chapter's Run/Walk to Break the Silence on Ovarian Cancer. Over 1,800 supporters participated in the five kilometer race that took place on September 22nd. The FFG team volunteered their time in support, and also made a monetary donation to the cause.
More than 20,000 women in the United States are diagnosed with ovarian cancer each year, and approximately 14,000 women die annually from the disease. There is currently no early detection test for ovarian cancer, nor is there a vaccination to prevent the disease.
Unfortunately, most cases are diagnosed late when prognosis is poor. However, if caught early, ovarian cancer is over 90% treatable. It's imperative that the early signs and symptoms of ovarian cancer are recognized not only by women, but their loved ones and the medical community as well. The key to early diagnosis is awareness.
The mission of the National Ovarian Cancer Coalition is to raise awareness and promote education about ovarian cancer. The Coalition is committed to improving the survival rate and quality of life for women with ovarian cancer.
The National Ovarian Cancer Coalition is a nationally recognized organization with a growing nationwide network of Chapters. NOCC volunteers fuel the ovarian cancer movement in local communities throughout the United States. These volunteers understand the specific needs of individual communities and through the establishment of local Chapters promote and expand patient, public and professional education about ovarian cancer.
"I am excited to work for a corporation that supports local charities," said Event Coordinator, Andrew Postell. "This was a great way for the Dallas team to have a lot of fun while supporting an amazing cause."
To learn more about the National Ovarian Cancer Coalition, visit http://ovarian.org/
About Foundation Financial Group
Foundation Financial Group is a multibillion dollar financial services corporation. FFG offers its customers Best in Class service through its Insurance, Retirement, Mortgage, and Tax Services. Named one of the fastest growing financial companies in the country by INC magazine, FFG has continued to grow its nationwide presence with over 100,000 new customers per year in 39 states. In addition to the value that Foundation Financial provides every customer, it is also dedicated to its communities and the people who live in them. Through a vast array of philanthropic endeavors the company not only provides significant monetary donations but also fosters a workforce environment that encourages all team members to personally make a difference. Foundation Financial is committed to its strong focus on customer service and community investment as it continues to grow and compete with the largest financial institutions in the world.
Foundation Financial Group reviews all public relations inquiries. For additional information, interview and image requests, contact the Foundation Financial Group Public Relations team at 866-659-3200.