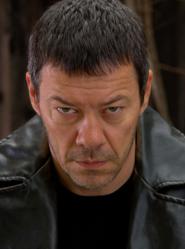 It's a sign of mediocrity demonstrate gratitude with moderation.
(PRWEB) October 03, 2012
Massi Furlan, a former stand -up comedian from Treviso, Italy, is getting recognized in the city of dreams with many acting roles such as his latest on the film LAYOVER. The movie promises action and suspense when hotel heiress (Holly) is kidnapped by two Russian thugs and it is up to her former assistant (DeFer) to find her before time runs out.
Most of the roles that Massi Furlan plays are just as electrifying and intense as this experience on Layover. This isn't the first time Massi caused havoc for some of our favorite heroes. A few of his past film and television credits include The Dark Knight Rises, Criminal Minds, One Tree Hill, Terminator Sarah Connors Chronicles, Aim High, and popular soap operas like, General Hospital and Days of Our Lives.
Massi's career highlight so far was working on The Dark Knight Rises with Director Christopher Nolan "It was two months after the audition that I got a call to tell me I was cast on the new Batman film. Hellooooooooo!" On the set of The Dark Knight Rises Christopher Nolan was open enough to listen to Massi's suggestion regarding the execution of a particular scene.
Mr. Nolan liked the idea and it ended up being used in the final cut. MF: "It's pretty cool that Mr. Nolan was open enough to listen to what I had to offer and I consider it a real honor that he actually used it!" As Massi continues to rise through the ranks he is looking forward to working with Sir Anthony Hopkins in the near future. "He's (Hopkins) with no doubt my favorite actor."
One of his favorite shows at the moment which Furlan has the eye on and seems to be a good fit for him being Italian is Boardwalk Empire. As comedy shows goes, he thinks he would be a good fit on Modern Family. At least he "wouldn't be the only one with an accent" jokes the actor.
Having played the villain often brings great joy, satisfaction not to mention FUN playing these action characters. He finds them to be of course the most memorable.
Being trilingual hasn't hurt either. Speaking English, Italian, Spanish and some French has opened many doors in many markets. But, it is playing the bad Russian guy that Massi has mastered (accent included) and, that's why he's getting cast to play one quite often.
Coming from a beautiful town near Venezia, he spent most of his younger years being the clown of the class or the trouble maker. He had different types of jobs such as, pannetiere (bread maker) salesman, pizza chef, stand-up comedian and flying in helicopters with the Italian army. Massi's family stills lives in Treviso. Which includes, his mother Giancarla and his younger brother Christian, Who also lived in South beach, Miami, and worked as the executive chef at the famous restaurant Tiramesu. Massi's brother now owns a bar in his hometown where he proudly displays his brothers accomplishments in America including the latest front page interview on the local newspaper La Tribuna di Treviso that reads, "A Trevigiano (someone from Treviso) in gotham city. Massi Furlan next to Batman" -- an article that brings great joy and enormous pride to his Italian family and friends.
But, this Italian "bad guy" has a soft spot as well. That would be his love for animals. He owns two rescue dogs (Jack and Chloe which they have their own Facebook page) and has rescued a few others for whom he had found good homes for. He is currently in talks with Nature's Flavors, a company that is developing a new pet medication where Massi would be the face representing the new product. The actor is extremely excited about this new project in his career, especially because can help those who need our help.
So what's new for this international villain? Well, there is the Lifetime movie Liz & Dick, the life story of Elizabeth Taylor starring Lindsay Lohan and Grant Bowler scheduled to air November 2 on Lifetime Network. Also in the magic hat Massi is in talks to shoot a film in Cambodia in spring 2013 as well to star in a project in his beautiful country of Italy.