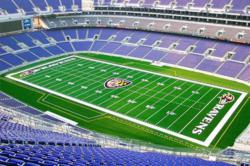 Kennesaw, GA (PRWEB) October 04, 2012
National Football League Referee Gene Steratore walked to the center of the Shaw Sports Turf field, turned on his microphone and greeted the team captains of the Baltimore Ravens and Cleveland Browns, as well as a packed M&T Bank Stadium and a national television audience.
''Good evening, men,'' he said. ''It's good to be back.''
People in the stadium, as well as around the country, roared with approval.
After three volatile weeks of replacement officials, the NFL and the NFL Referees Association had reached agreement the night before, just in time for the NFL referees to return for week four of the 2012 NFL season. On Thursday night, Sept. 27, Steratore and his crew had a primetime stage for the first game of the year with real NFL officials. They also had a state-of-the-art Shaw Sports Turf field for the occasion.
The Ravens would go on to win their third game of the season with a 23-16 win over their arch-rival the Browns.
The Baltimore Ravens field at M&T Bank Stadium features the Shaw Sports Turf Momentum system and covers approximately 108,000 square feet. Each tuft contains at least eight individual fibers, and there are a total of over 1 billion synthetic grass blades on the field. Momentum is 2.5 inches deep with a two-inch infill that is half sand, half rubber. This dual infill mix works in unison with high quality polyethylene fibers and a unique multi-layered backing. The result is a field system that is smooth, fast and incredibly durable while offering stability and predictable ball-roll.
The Lacrosse Championships will return to Baltimore in 2014 which will mark the sixth time the NCAA Men's Lacrosse Championships have been played in the city, serving previously as the championship site in 2003, 2004, 2007, 2010 and 2011. Hosting the event for five years while earning a sixth year speaks volumes to the playability of the surface and its performance under stress.
About Shaw Sports Turf
A wholly-owned subsidiary of Berkshire Hathaway Inc., Shaw Industries is a full flooring provider to the residential and commercial markets. Shaw supplies carpet, rugs, hardwood, laminate, resilient, and tile/ stone flooring products, as well as synthetic turf. Shaw Sports Turf is one of the leading synthetic turf companies in North America and has represented quality and innovation for more than two decades with over 1,000 successful installations, including an impressive list of high-profile field installations. For more information please visit http://www.shawsportsturf.com, call 866-703-4004 or find us on Facebook.