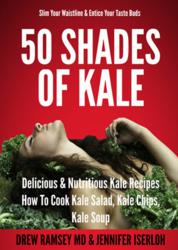 Colorful, Delicious & Fun – The Most Nutritious Spin On Fifty Shades of Grey!
New York, NY (PRWEB) October 05, 2012
Launched this month on Amazon.com, 50 SHADES OF KALE (50shadesofkale.com) by Dr. Drew Ramsey and veteran cookbook author Jennifer Iserloh is a colorful, delicious, and fun cookbook with 50 decadent recipes using Mother Nature's top super food – and certainly the most nutritious spin on Fifty Shades of Grey!
Chock-full of meal plans and tips for optimal kale care and preparation, 50 SHADES OF KALE will teach you to easily prepare this delicious, healthy, and buzz-worthy vegetable. Whether you are vegan, gluten free, or a knife carrying meat eater, Dr. Ramsey and Iserloh will turn you on to the sinfully delicious crunch of kale.
Already the in the know folks at Well + Good NYC have headlined "'50 Shades of Kale' is bound to excite your taste buds," forecasting this is the book that will help solve kale's PR problem. http://www.wellandgoodnyc.com/2012/10/03/50-shades-of-kale-is-bound-to-excite-your-taste-buds/
Tongue-in-cheek introductions, gorgeous photos, and a simmering essay on kale's health benefit, add a playful element as Dr. Drew exposes kale's scientific side and health attributes and Jennifer highlights kale in some sinfully good recipes. From breakfast to cocktails, Kaleonnaise to Thai'd Up Roughage, readers learn fifty new pleasing ways to partner kale. Devour spicy Kalejitos, tasty Kale Chicken Enchiladas, and decadent Chocolate Kale Chip Cookies, without regret — every dish is less than 400 calories.
Free copies of the Kindle book are available for a limited time - learn more at http://50shadesofkale.com
Dr. Drew Ramsey, an assistant clinical professor of psychiatry at Columbia University, is one of psychiatry's leading proponents of eating for brain health. Dr. Ramsey co-authored THE HAPPINESS DIET: A Nutritional Prescription for a Sharp Brain, Balanced Mood, and Lean, Energized Body (Rodale, 2011), and his writing has appeared in The New York Times, The Huffington Post, The Wall Street Journal, The Atlantic, and Men's Journal.
Jennifer Iserloh is the author of SECRETS OF A SKINNY CHEF (Rodale, 2010). As a trained chef, author and health expert, she has created thousands of delicious recipes, articles, and blogs posts for TV, print and web publications including "The Today Show," "Living Well With Montel," Self, Prevention, InStyle, People, and Livestrong.