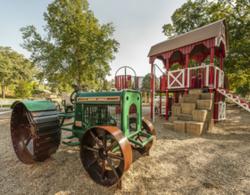 Delano, Minn. (PRWEB) October 04, 2012
The City of Mankato, Minn., recently opened its new farmstead-themed playground in Sibley Park, 900 Mound Avenue. Situated next to Sibley Farm, a petting zoo complete with alpacas, calves, goats, peacocks, horses, pigs, lambs, chicks and ducklings, the Landscape Structures-manufactured playground matches the red barn-style buildings.
Because Sibley Park is a dynamic community park that's rich in history, it made sense to the City's playground planners to create a destination play space there. The park, named for Minnesota's first Governor, Henry Hastings Sibley, offers recreational opportunities, space for weddings, picnicking areas as well as the story book farm site. To begin the process, planners contacted their local Landscape Structures playground consultant, Flagship Recreation, and shared their vision for the playground design.
Flagship Recreation and the custom design team at Landscape Structures, a Delano, Minn.-based commercial playground equipment manufacturer, worked together to create a one-of-a-kind play area for the children in Mankato as well as visitors from surrounding communities. Using a variety of materials, they created two barn-themed playstructures, a chicken coop structure, pig pen, tractor climber, corn stalk climbers, a wagon-themed seesaw and much more. Grabbing the attention of passersby and visitors alike are the farm animals—chickens, coyotes, horses and pigs—sculpted from concrete and hand painted by a team of artists.
Landscape Structures has decades of extensive design experience, and has designed, manufactured and installed nearly 5,000 custom playgrounds throughout the world. By combining traditional playground materials with sculpted and painted concrete, the company can turn an ordinary playground design into an outdoor adventure. Landscape Structures has a team of talented designers, sculptors and artists that collaborate with clients to create innovative gathering spaces for communities.
Since 1971, Landscape Structures Inc. has been the leading commercial play equipment manufacturer in the world. The employee-owned company is committed to making the world a better place with active children thriving in leading communities year after year, generation after generation. Landscape Structures encourages outdoor play that develops healthy kids and a sustainable world by creating innovative products that are environmentally responsible. As a leader in inclusive play, Landscape Structures is committed to designing truly inclusive playgrounds that provide places where children of all abilities can play, learn and grow together. The company's mission from day one has been to enhance children's lives by fostering and creating inspiring play experiences while honoring the environment.