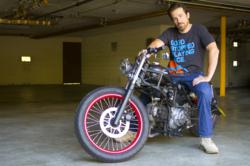 Los Angeles, CA (PRWEB) October 03, 2012
Walking for a charity has taken on a whole new meaning when one of the celebrities doing so is an Amputee. Kurt Yaeger who plays "Greg the Peg" on the hit FX show Sons of Anarchy has joined forces with APLA to raise money for AIDS research, support and testing.
Kurt Yaeger has been an advocate for multiple charitable organizations such as the United Cerebral Palsy, the Boot Campaign, American 300 and Do Gooder. Now he teams up with APLA to raise funds for research, testing and prevention.
Kurt knows firsthand the importance of charitable donations and support in a time of need. When he lost his leg in a motorcycle accident his family and friends surrounded him with emotional and financial support. "Not everyone gets to have the support I had", Kurt says. "It's time to give when you can give, and receive when you need". The AIDS walk will take place October 14th in Los Angeles. AIDS Project Los Angeles is dedicated to: improving the lives of people affected by HIV disease; reducing the incidence of HIV infection; and advocating for fair and effective HIV-related public policy. If You'd like to help support Kurt with this great cause, please donate here.