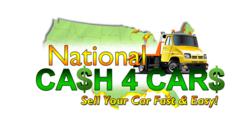 Wellington, FL (PRWEB) October 05, 2012
Overall, the new and improved website allows customers to quickly submit their vehicle information, thus allowing National Cash 4 Cars to immediately start the vehicle buying process. National Cash 4 Cars has a massive car buying network, and operates in all states across the United States.
"Over the past year, we redesigned the website, so that customers could easily submit their vehicle and personal information" states R. Charles, Operations Manager. "The website redesign could not have gone better, the customers love being able to submit their vehicle information and get a legitimate quote back within an hour."
Selling a used car can be a frustrating experience. The process of advertising a second-hand automobile in various classified ads and the like can be stressful, undependable and time consuming. This is particularly true if someone needs a quick sale. Selling through the classifieds typically takes a number of weeks or even months before one is able to sell their vehicle. A good alternative is a company such as National Cash 4 Cars, which makes it much easier to get top dollar in the sale of a used vehicle. Essentially, customers can receive cash for their car quickly and easily; without a lot of stress or waiting. Many people find that this approach works so well that they never bother with traditional sales again.
As Easy as One, Two, Three
There are only three steps involved when using National Cash 4 Cars. The first is simply to enter the vehicle and contact details. This obviously involves the customer's name and address, and also the vehicle's make, model, mileage, condition and any other pertinent information. This allows the company to make an informed decision about how much to offer for the vehicle. It costs nothing to get such a quote from National Cash 4 Cars, and the customer is not required to accept any offer, which makes this a thoroughly painless and highly convenient way to sell a vehicle. Customers are often surprised by the price offered; with a large network of potential buyers, National Cash 4 Cars can offer fantastic prices that may meet or even exceed what typical customers would expect from a classified sale, without any of the difficulties or headaches.
Accepting the Offer
If the customer is happy with the offer, all they have to do is accept it in order to get the ball rolling. With extensive experience in the field, National Cash 4 Cars has no difficulty in explaining the process to their customers or in satisfying their needs.
One of the most useful aspects of National Cash 4 Cars is that they will not only pick up the sold vehicle, but they even do it for free. While a classified sale would involve meeting potential buyers (often many of them) and going for various test drives, when getting cash for cars, the customer need only approve the sale and then be present to receive the cash when the tow truck arrives.
Value and Convenience
One of the most convenient things about getting cash for cars is the vehicle does not have to be in excellent condition. In fact, National Cash 4 Cars will even accept junk or wrecked cars and offer reasonable prices for them. Anyone who has ever tried to sell such a vehicle via classified ads knows how difficult it is, but when using this approach, it is just as easy as selling any other car. It is hard to overstate the significance of being able to sell any car in just three steps, without the usual stress, time and difficulty.