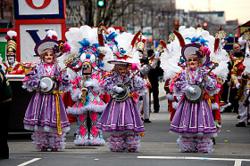 Remember, Halloween Parades have something for everyone, not just kids
Alpharetta, Georgia (PRWEB) October 05, 2012
Alpharetta, Georgia based Mr. Costumes the leading online retailer of Halloween costumes releases its 2012 list of U.S. Halloween Parades. From New York to California communities both large and small celebrate the season by showing off their Halloween costumes in a multitude of pageants and parades. Whether its a tiny tot disguised as a Pirate, dashing Dark Knights or sexy Vampires these parades guarantee fun for everyone. Event venues range from school campuses to historic district ghost walks. Mr. Costumes' parade list also includes pet parades for animal lovers wanting to join the festivities while sponsoring pet rescue causes.
Popular parade costumes vary from state to state. California, Louisiana and Virginia seem to be particularly fond of the undead as Vampire Costumes are the most common. Pirates outsell other costumes in Georgia, Washington and Maryland; coincidentally, these are all port cities. Florida and Ohio appear to enjoy many different types costumes so long as it's sexy - while Illinois, Michigan and Connecticut enjoy bonding with couples costumes. The most important thing in choosing a costume to wear in a parade is that it makes you feel good and full of Halloween fun.
Halloween Parade Trivia:

The first town to host a Halloween Parade was Hiawatha, Kansas in 1914
Ruthland, Vermont holds the record for the longest consecutive running parade; they've not skipped one since 1960
Americans spend almost 8 billion dollars on Halloween, approximately half that amount will be spent on costumes to be shown off in parades
Some parades have morphed into 5k races
Zombie Marches are a form of Halloween parade, but featuring only Zombies
In 2005, Key West, Florida had to move their annual Fantasy Fest parade from October to December due to hurricane Wilma postponing the celebration
The Village Halloween Parade in New York City holds the record for the largest U.S. parade
New Jersey's Toms River Parade, the second largest in the U.S., is also known for their impressive floats with best in parade prizes being awarded as early as 1919
"Remember, Halloween Parades have something for everyone, not just kids" says Mr Costumes Co Founder William Hale. Adult costumes are plentiful, including great selections of campy couples costumes and fabulous plus size costumes. Visit our blog to find parades in your area – Mr. Costumes will even add your parade to our list at no-charge - the more the scarier.
About Mr. Costumes:
Mr. Costumes (http://www.mrcostumes.com) is a leading nationwide retailer of high quality Kids Costumes, Toddlers Costumes and Adult Costumes for every occasion. The company's premium line of costumes for children ranges in size from infant to tween. Adult costumes include plus size and couples costumes for the imaginative consumer. Products are designed to look amazingly authentic while providing comfortable, breathable materials that also make them enjoyable to wear.
Media Contact:
Hillary Zody
877-595-1031, ext. 5016
media @ mrcostumes.com