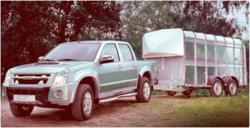 (PRWEB UK) 5 October 2012
Business van drivers and operators should take steps not to fall foul of changes to the laws governing towing, which come into force on 19 January 2013.
The regulations stipulating which drivers are qualified to tug trailers were last amended in 1997 and anyone who passed the driving test since requires a Category B or BE entitlement. Changes to the rules from 13 January will further restrict the weight that drivers qualified after 1997 can tow without a separate qualification.
A specific category BE qualification will be needed to tow a trailer weighing in excess of 750kg when the combined vehicle and trailer weight come to more than 3.5 tonnes. Drivers will need to pass a separate test for this.
To tow a trailer weighing more than 3,500 kg with a car or small vehicle (Category B), you'll need to pass a test for category C1E.
The situation is unchanged for drivers who obtained their licence before 1 January 1997. Their entitlement to tow trailers up to a gross vehicle weight of 8.25 tonnes, and a minibus with trailer over 750kg, is retained until the expiry of their licence.
Business van drivers and operators towing a trailer should exercise caution about the suitability of the trailer, the weight and secure and correct distribution of the load. Remember, the speed limit for towing is 60mph on motorways and dual carriageways and 50mph on other roads unless other speed restrictions are in force. If the vehicle/trailer combination exceeds 7,500kg Maximum Authorised Mass (MAM) then there is a further restriction of 50mph on dual carriageways. The Highway Code provides full details.
Keep up to date with developments in our Business Van News section.