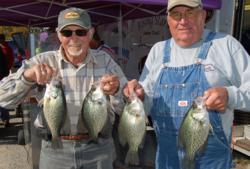 There's nothing like a crappie thumping a jig in October. This is going to be a fun time.
Tulsa, Okla. (PRWEB) October 03, 2012
Two Oklahoma-based crappie tackle manufacturers have partnered once again to host the second annual Bobby Garland / Crappie Pro Monster Fest fishing tournament and kids derby on Oklahoma's Ft. Gibson Lake, Oct. 27-28.
This year's event will offer pro and amateur divisions, plus a free kids derby open to ages 12 and under. Tournament and recreational crappie anglers alike stand to benefit from the free evening seminar that kicks off the weekend's activities.
All activities will take place at or around Paradise Cove Marina located within Sequoyah State Park at Ft. Gibson Lake, including the seminar on Oct. 26 from 6:45 - 8 p.m.
The pro division consists of a two-day tournament, where two-person teams fishing from boats will compete for a guaranteed minimum first place check of $2,500. The early bird entry fee is $200 per team and is required by Oct. 25. Anglers also have the option to pay the on-site entry fee of $250, as long as they enter prior to the Oct. 27 tournament start time of 7 a.m.
A number of top professional crappie teams from Oklahoma, Kansas, Missouri, Texas and Arkansas, and from as far away as Alabama, Mississippi and South Carolina, have indicated participation in the two-day pro division.
The amateur division is open to two-person teams fishing from boats and consists of two one-day tournaments on Oct. 27 and 28. An amateur team may compete in either or both tournaments, and a first place check of $500 is guaranteed daily for this division. The amateur division entry fee is $50 per team, per tournament day, if received by Oct. 25. The on-site fee is $65 per team, per day, and must be received prior to each tournament's start time of 7 a.m.
The Kids Monster Mash Fishing Derby is for youth ages 12 and under and takes place on Oct. 27 from 10 a.m. - noon. Participation is free but does require accompaniment by a parent or guardian from start to finish. Youth anglers must bring their own rod, reel and bait. All who enter will receive a lure pack.
On Saturday, Oct. 27, weigh-ins will begin at 2 p.m. for the amateur division, followed by the pro division at 3 p.m. On Oct. 28, the amateur division weigh-in will start at 1:30 p.m., followed by the pros starting at 2 p.m. A formal presentation of checks to amateurs and pros will conclude the event.
"Last year's tournament on this same weekend proved to be a great time for crappie fishing on Ft. Gibson Lake and we expect that to be the same for this year," said Crappie Pro's Larry Russell. "We're excited about the return of several top pro teams to compete again and are pleased to add the two one-day amateur tournaments to the weekend schedule. There's nothing like a crappie thumping a jig in October. This is going to be a fun time."
For tournament rules, schedule and registration information, visit http://www.CrappieMonsterFest.com.
For more information about the two Oklahoma companies hosting the event, visit http://www.CrappiePro.com or http://www.GeneLarewLures.com.