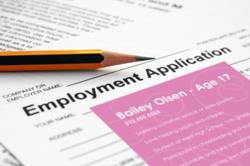 What a great way to make a job application stand out. The website blog and Facebook page offer great tips for how to get a job, tips for interviewing, and offers timely news for teens about working and finances. - Margay McGee, Guidance Counselor
Chattanooga, TN (PRWEB) October 09, 2012
The National Retail Federation has released its most optimistic forecast for seasonal hiring since the recession, estimating retailers will add 585,000 – 625,000 hires. In spite of the increase, the job market remains highly competitive, especially for young people age 16-24. As older, more experienced unemployed workers are competing for the same retail jobs, teens need a way to set themselves apart from the crowd. Application Bling is a proven way for young people to get their job application noticed.
In the world of retail, a standard job application is often the candidate's only way of providing information about themselves, their qualifications and life experiences. That, says Angie Burton, is why she created ApplicationBling.com, with free downloadable "Bling" decals designed to help young job seekers put their own special touch on job applications – and stand out from all the others.
"I got the idea when my daughter, Haley, was looking for her first job" says Burton, a mother of two and long-time advertising producer. Despite being an A-student with an outgoing personality, she wasn't getting interviews. And Burton thought she knew why.
"It's not like an adult applying for a professional position, where we have cover letters and resumes to help tell our stories," she says. "For kids just starting out, they usually fill out a job application and that's it. I felt Haley was getting overlooked…that her school achievements, community service and other things about her personality weren't being noticed. So I started looking for a way to help Haley's job application stand out and get noticed by hiring managers."
Burton's idea was to "bling" her daughter's resume with a small, brightly colored removable decal, sort of like a Post-it note. Using a simple layout with a decorative font and just a few bullet points, she listed highlights of her daughter's academic career, including awards, accolades and volunteer experience, along with her goal to earn her own money to buy a car. Then, she arranged to have a handful of clings digitally printed by one of her agency's vendors.
As it turns out, she really only needed one copy as her daughter was offered the very next job for which she applied. And Burton knew she was onto something.
"Haley got a job at Ace Hardware where she wanted to work most," says Burton. "The cashier who took her application said she saw the Bling and took it straight to the manager versus chunking it into a pile of other applications all looking the same." Ray Swafford, the store manager, called her for an interview and hired her. "The sticker showed initiative," he said and that was part of the reason he hired her.
Word spread among her friends, and soon Burton was making ApplicationBling for them, too. Every single one of them either got an interview or a job. Some, if fact, got multilple offers. "It was like they had a secret weapon," says Burton.
ApplicationBling, a colorful cling job seekers apply to a job application that highlights their goal, plus best qualities and achievements. Much like a cover letter compliments a resume, ApplicationBling enhances a job application and helps teens get hired. A self-described "mom on a mission", Angie Burton's vision for ApplicationBling.com is to be a one-stop resource and community for young job seekers, their parents' and anyone else interested in helping launch new employees into the workforce. "As a parent, I want my kids to have a work ethic, a sense of pride, and to know the value of a dollar," says Angie. "I think today's young people want to learn make their own way, and that parents want to help."