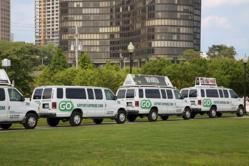 Seven of our customers have been named Sustainability All-Stars for their commitment to lowering emissions and operating costs with propane autogas.
Livonia, Mich. (PRWEB) October 03, 2012
ROUSH CleanTech is leading the change to promote propane autogas technology at the 2012 Green Fleet Conference and Expo this week in Schaumburg, Ill. At the conference, Green Fleet Magazine recognized seven ROUSH CleanTech customers as Sustainability All-Stars; ROUSH CleanTech displayed its brand new 2012 Ford F-250 pickup trucks fueled by propane autogas; and a partnership with propane autogas customer GO Airport Express provided alternatively fueled transportation to and from the conference at a discounted rate.
"We are excited to have so much happening at this year's Green Fleet Conference," said Todd Mouw, vice president of sales and marketing for ROUSH CleanTech and a speaker at this year's event. "Seven of our customers have been named Sustainability All-Stars for their commitment to lowering emissions and operating costs with propane autogas. They've shown people and businesses around the country that it really can pay off economically and environmentally to be an agent for change."
The Sustainability All-Star honorees include Tom Armstrong, director of fleet for ThyssenKrupp Elevator, who was acknowledged for his role to operate 10 percent of the company's fleet (or 300 vehicles) on propane autogas by 2015. Ronald Bast, president of GO Riteway, was recognized for operating 65 percent of his airport shuttle fleet on alternative fuels. Robert Hann, president of GO Airport Express, was awarded for fueling 60 percent of his 100-vehicle fleet with alternative energy. Tom Hopkins, central warehouse and logistics department head for Wright & Filippis, has transitioned nearly 30 percent of his delivery service fleet to propane autogas.
Also among this year's winners is Ronald Latko, director of transportation and fleet management with Mesa Unified School District, for operating 27 school buses on propane autogas, lowering his operating costs by more than 36 cents per mile, per bus. Maraskeshia Smith, deputy director of fleet services for City of Cincinnati, was acknowledged for saving the city 40,000 pounds per year in carbon dioxide emissions with propane autogas vehicles. Mark Swackhamer, senior manager of fleet operations transportation services for Houston Independent School District, also took home an award for adopting 20 new propane autogas Ford E-350 vans, reducing the district's diesel use by more than 70,000 gallons in the first year alone.
Earlier today, GO Airport Express' Hann also accepted the Propane Autogas Fleet Award presented by the Propane Education & Research Council. Previous winners of this award include ROUSH CleanTech customers Frito-Lay and SuperShuttle.
"In addition to having so many of our customers honored at this year's Green Fleet Conference, we're pleased to display the newest product in our lineup, the ROUSH CleanTech liquid propane autogas Ford F-250 / F-350." said Mouw. "Like all of our products, we're delivering the same horsepower, torque and towing capacity as the factory gasoline engine. This product will begin shipping next month to customers around the country."
Propane autogas is the leading alternative fuel in the United States and the third most commonly used vehicle fuel, following gasoline and diesel. When compared with gasoline, vehicles fueled by propane autogas produce up to 25 percent less greenhouse gases, 20 percent less nitrogen oxide and up to 60 percent less carbon monoxide. For more than 30 years, the cost of propane autogas has been 30 percent less than the cost of gasoline, and today averages 40 to 50 percent less.
About ROUSH CleanTech: Based in Livonia, Mich., ROUSH CleanTech offers dedicated liquid propane autogas fuel systems for a variety of light- and medium-duty Ford vans and trucks, and for the Blue Bird Propane-Powered Vision and Micro Bird G5 school bus. Currently offered through authorized Ford dealerships around the country, the ROUSH CleanTech propane autogas fuel system delivers the same factory Ford performance characteristics and serviceability with a 5-year/60,000-mile limited warranty. Customers can lower operating costs significantly while reducing vehicle emissions. Complete details on ROUSH CleanTech propane autogas offerings can be found online at ROUSHcleantech.com or by calling 800.59.ROUSH.
# # #