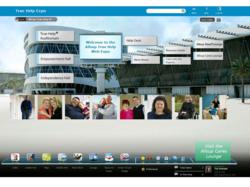 The information that was available was amazing! I could browse the booths and find links to various websites, read articles, watch videos. What a collaboration! Thank you so much
Belleville, Ill. (PRWEB) October 04, 2012
Hundreds of individuals from Hawaii to Rhode Island chatted with experts in health, caregiving, disability rights and veterans benefits at the Allsup True Help® Disability Web Expo Sept. 27.
The free online virtual event was designed to provide an easily accessible forum for seniors and individuals with chronic illnesses and disabilities to connect with resources and network.
"More than 1,300 individuals registered for the live-day event, and they are already coming back to take advantage of the Expo's on-demand period, which runs through Dec. 26," said Tai Venuti, Allsup's manager of Strategic Alliances.
The live-day presentations and chats, as well as resources, videos and interactive activities at 20 information booths sponsored by more than a dozen nonprofit and advocacy organizations are now available on-demand. Individuals can register at WebExpo.Allsup.com and may return to the Expo free of charge until Dec. 26.
"We are planning more live events and educational programs, so I encourage people to register," Venuti said. "One of the great features of this virtual environment is that you can interact with anyone else who is in the Expo at the same time. So, you can continue to network and make connections during the on-demand period. You can even plan to meet others at the Expo and explore the different spaces together."
One of the more popular features, the Expo scavenger hunt located in the Allsup Place Lounge, also will be available through Dec. 26.
On-demand presentations and transcripts of presentation Q-and-A sessions include:

Transcripts of moderated chats with experts on various topics include:

Making the most of Medicare
Is chronic pain a disability?
Every claim is different—insight into the Social Security Disability Insurance application process
Wounded warriors—a discussion on veterans disability resources
Connecting with community resources (local, national)
"People with disabilities often face significant financial, health and social challenges," Venuti said. "The Web Expo offers valuable information that addresses all of these concerns and more in one convenient location.
"It is a novel approach for engaging the disability community and offers a forum where their thoughts and ideas are heard, encouraged and appreciated," she added.
Participating organizations include:

American Association of People with Disabilities
American Parkinson Disease Association
Arthritis Foundation
Brain Injury Association of America
Invisible Disabilities Association
Lupus Foundation of America - Piedmont Chapter, Inc.
Mended Hearts
National Alliance on Mental Illness
National Disability Rights Network
National Family Caregivers Association
National Fibromyalgia and Chronic Pain Association
National MS Society
National Organization for Rare Disorders
National Spinal Cord Injury Association, a program of United Spinal Association
National Stroke Association
Tremor Action Network
The Web Expo will continue to deliver True Help through Wednesday, Dec. 26. Register at WebExpo.Allsup.com.
ABOUT ALLSUP
Allsup is a nationwide provider of Social Security disability, Medicare and Medicare Secondary Payer compliance services for individuals, employers and insurance carriers. Founded in 1984, Allsup employs more than 800 professionals who deliver specialized services supporting people with disabilities and seniors so they may lead lives that are as financially secure and as healthy as possible. The company is based in Belleville, Ill., near St. Louis. For more information, go to http://www.Allsup.com or visit Allsup on Facebook at http://www.facebook.com/Allsupinc.
Contact:
r(dot)ray(at)allsupinc(dot)com (800) 854-1418 ext 65065
t(dot)venuti(at)allsupinc(dot)com (800) 854-1418 ext 68573