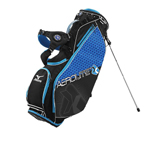 Atlanta, Georgia (PRWEB) October 08, 2012
10rate editor S Dee Davis cut through all the choices out there in the Golf category to come up with his top choices. According to the Best Golf Bags page at 10rate.com he selected his top choices based on the following criteria:
1. Durability
2. Price
3. Stability of Stand
4. Access and Organization
5. Extra Pockets for Accessories
6. Comfort of Harness strap
Mizuno, Callaway, and Adidas all had highly rated tablets according to the reviewers.
Editors also evaluated and selected the Best Golf Irons based on the following:
1. Comfort at Setup (Instilling Confidence)
2. Solid Feel at Impact
3. Workable Ball Flight
4. Consistency of Distance
5. Pure Distance
6. Shaft Quality and Consistency, Standard included shaft
7. Ability to Spin the Ball
8. Spin Control
9. Grip Feel and Quality
According to reviewers Titleist, Nike, and Mizuno all figured prominently in the rankings.
Lastly, editors chose the Best Golf Drivers with Taylor Made, Cobra, Titleist, and Nike all being selected according the the Top 10 list.
10rate.com conducts reviews in various product and services categories and publishes "Expert Top 10 Lists for Everything in your life." The company's web site strives to "Make it Easy" to select from the hundreds of choices there are in the product and service market place. All products and services are thoroughly researched by the companies expert editors prior to receiving a rating on a 1-10 scale. In addition to product reviews the companies editors write guidelines, buying guides and articles on various topics surrounding each product or service category covered to help educate the consumer.