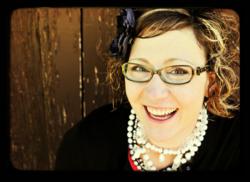 (PRWEB) October 03, 2012
Jessica Sprague, founder, instructor and designer at JessicaSprague.com, will be joining 14 other talented instructors at True Scrap 4 October 19-20, 2012.
True Scrap is the galaxy's ONLY online, live scrapbooking and papercrafting experience. 15 A-list instructors will teach classes on everything from photography to design to inspiration. Attendees will participate in this live event from home and interact in the state-of-the-art webroom, chatting, learning, and interacting in real time. All live classes will be recorded so attendees can go back and watch again and again.
All About Actions: Photoshop Actions for Beginners with Jessica Sprague
Jessica will be teaching Photoshop Actions for Beginners. Photoshop ACTIONS are a great way to speed up your photo editing workflow! In short, actions are a series of pre-set steps that alter the color, brightness, contrast, and/or tone of your image, all while you sit back and watch the automated magic. In the class attendees will learn how to install and run actions on photos using Photoshop or Photoshop Elements. Packed with detailed info, and complete with plenty of links to free and low-cost actions, this class walks you through from start to finish.
About Jessica Sprague
Jessica Sprague is a self-proclaimed "computer geek" and hybrid scrapbooker. It was inevitable, really. She grew up around computers, started a career in web and user-interface design, married a computer programmer, and became interested in digital photography. Then along came her first child, and Jessica discovered scrapbooking. But, as they say, geek is a way of life... and a new habit (er, hobby) was born.
A passionate paper AND digital scrapbooker, Jessica loves sharing her Photoshop expertise with scrapbookers looking for ways to edit and enhance photos, use digital brushes, play with digital patterned paper, type, graphics, and design.
Jessica founded JessicaSprague.com in 2007. The site's mission is to provide instruction, inspiration, and products to help people grow their skills, beautify their lives, and enhance their relationships.
About True Scrap
True Scrap is produced by Lain Ehmann. A former editor for Simple Scrapbooks and Scrapbook Answers, co-founder of Ella Publishing Company, and the author of several books on scrapbooking, Lain has over a decade of experience in the scrapbooking industry. She brings a unique combination of creativity, technical know-how, and personality to this one-of-a-kind event. Find out more at TrueScrap.com.