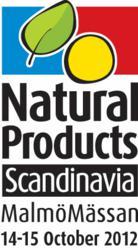 Malmo, Sweden (PRWEB) October 03, 2012
Attendees to this month's Natural Products Scandinavia, on 14-15 October in Malmö, Sweden, will be treated to a wealth of new natural, organic, Fairtrade, free-from, sustainable, and healthy living products – as 170 companies prepare to exhibit at the Nordic natural and organic products industry's first-ever dedicated trade show.
The launch of Natural Products Scandinavia presents a unique opportunity for Scandinavian retailers and press representatives to meet natural and organic product innovators and pioneers, keep up with the latest industry trends, and get an exclusive preview of new innovations being launched onto the Nordic market. The following is just a taste of what's in store over 14-15 October 2012.

Kenkou Selfcare AB (stand A47) is distributor for Lambert Healthcare's new research based food supplement for the skin called Colladeen Derma Plus. Dubbed the 'pink pill', the food supplement (featured in the Harper's Bazaar 'Beauty Hot 100' list in 2012) has been proved to provide the skin with a natural sun protection factor of SPF 10, improve its elasticity and firmness, prevent and reduce wrinkles, as well as reducing spider veins by up to 50%! Colladeen Derma contains lutein and anthocyanidins from green tea and bilberry, which are beneficial for the inner and outer layers of skin. (Sweden)
Naturkosmetikkompaniet AB will present its Ayurvedic Bodyseries, created with pure organic ingredients (stand B08). Promoting the importance of balance in health and beauty, ingredients include soft organic sesame oil and mineral rich Himalayan salt, which provide warmth and energy to the body, along with beneficial tea for the three different types of Doshas. Naturkosmetikkompaniets's philosophy and heart has always been to tell the whole truth, which is why it always includes a complete list of ingredients and strict labels with all its eco-natural cosmetics. (Sweden)
Ancient Minerals – Transdermalt Magnesium (stand A03) introduces the Ancient Minerals pioneering range of magnesium products for topical use. An essential mineral, magnesium is vital for energy production, blood sugar regulation, balanced hormones and a healthy nervous system. Magnesium relaxes both muscles and nerves and promotes calm, relaxation and sleep. Traditional oral magnesium supplements are notoriously hard to absorb, however Ancient Minerals topical magnesium comes as gel, spray, lotion or bath flakes in various strengths for maximum tissue absorption. Ancient Minerals magnesium contains 100% pure magnesium chloride from the ancient Zechstein sea bed. (Sweden)
Martina Gebhardt Naturkosmetik, creator of a sophisticated product range of organic natural skin care, will be exhibiting on the Demeter Pavilion at the show on stand A22. More than 95% of Martina Gebhardt's raw ingredients come from certified organic cultivation or Demeter contract cultivation. Popular products include rose; demeter pregnancy – skin care products for expecting mothers; demeter wellness and spa; avocado eye cream; happy aging cream; rose lip balm; sheabutter facial lotion; wild Utah (for men); demeter child and baby care; and demeter skin and massage oils. (Germany)
Frenchtop Natural Care Products (stand D11) has recently launched a new range of Ecocert certified Hairwonder Natural Shampoos and Conditioners. This remarkable series of mild cleansing, non-irritating shampoos are 100% free of lauryl and laureth sulphates. Enriched with up to 13 certified organic ingredients, they are biodegradable and paraben free. Also new is its Hairwonder Botanical Styling – the first hair strengthening styling enriched with eight certified organic ingredient. Free of parabens and not tested on animals, the series consists of 10 styling products, each containing eight certified organic ingredients, phytokeratin and provitamin B5 to strengthen the hair from root to tip. (The Netherlands)
BIOLA Organic Cosmetics (stand B24) will be launching several new products across its brands, for both professional and home use. Naturissimo natural products are economic and effective solutions for those who wish to make the transition from synthetic to natural. Biola certified organic products are some of the purest, most effective organic products out there. Whilst the Orgalys certified biodynamic brand is simply the only one of its kind. (Hungary)
MADARA Cosmetics (stand B11) is a natural and organic skincare brand from Latvia whose products contain unique Northern plant extracts, which are certified by ECOCERT. It is now available in more than 25 countries across the world, with a strong presence in Scandinavian countries. This year MADARA launched new organic skincare line TIME MIRACLE, which has been scientifically proven to have a visible anti-aging effect. TIME MIRACLE products have a water-free formula with birch juice and rejuvenating Northern plant complex Galium7 (G7). In addition, MADARA has also launched new packaging for all of its products becoming more luxurious and eco-friendly than ever.
Aura-Soma Products/AEOS (stand C40) is pleased to announce the launch of its new Active Energised Organic Skincare (AEOS) range. A new vision for natural beauty, AEOS makeup nurtures the natural function of the skin bringing out the healthy glow of your complexion, smoothing uneven skin tone and minimising imperfections, to create a smooth flawless finish. All AEOS makeup products are formulated with the highest quality natural and organic ingredients. Aura-Soma Products' primary objective is to get as close as possible to providing consumers with 100% organic and biodynamic ingredients – makeup that is not only effective but also good for the skin and environment we share. (UK)
Gentle Beauty (stand D47) will be showcasing a unique range of non-toxic cosmetics and hair care products; all of which contain no petrochemicals, alcohol or plastics. The products have won several awards from natural beauty experts in the UK. The range includes an odourless hairspray, effective hair serums, completely toxin free peel-able nail polishes, and a natural, nail polish remover that works on all types of nail polish. (UK)
Napiers the Herbalists (stand A09) will showcase its Baby Soothing Starflower Dry Skin Cream, which has been used for decades on babies with dry, itchy skin. The company has recently launched Baby Napiers, a mother and baby range, with more creams and balms for babies and mums. Like all its natural, herbal skincare and licensed herbal remedies, they're formulated by herbalists working in Napiers clinics – tried, tested and trusted by their patients. Also new are Tea Tree & Goldenseal Cream; Age Defiance Corrective Cream; and Aloe Vera & Seaweed Gel. (UK)
Songbird Massage Waxes (stand E03) are the manufacturer and distributor of the Songbird range of massage waxes, reflexology waxes and balms. The formulations originally come from New Zealand and incorporate a mixture of beeswax, vegetable and essential oils. They are a truly spill free, luxurious and healthy medium for massage. Songbird's products are different to other massage mediums in that they concentrate on a strong, precise grip as a professional necessity. They have been trusted by professionals in New Zealand and the UK for nearly 30 years. They are looking for like-minded distributors in all Scandinavian countries. (UK)
Health & Nutrition and Natural Living
Swereco Group (stand E07) will be exhibiting several newly launched products, which are now available for sale in pharmacies and health stores. Dosett Pocket is a small vitamin and medicine box with three compartments, which is a convenient alternative to larger variations. The box has a modern design with an outer cover, which can be varied by decorating it with different patterned stickers. Whilst Mabs has expanded its product range to offer supportive braces in nine different models, which alleviate the most common symptoms and pain related to muscles and joints. Mabs braces are all individually conformative in size and compression. (Sweden)
Great Earth Scandinavia (stand B12) launches its innovative Omega-3 supplement. Apart from a high concentration of the fatty acids EPA (Eicosapentaenoic Acid) and DHA (Docosahexaenoic Acid), Great Earth's new fish oil product, My Heart, also contains Vitamin E, Coenzyme Q10, Pantothenic Acid and Olive extract. The Olive extract contains polyphenol hydroxytyrosol, the substance found primarily in the olive leaf that is known to play a part in protecting the blood fats from oxidative stress. (Sweden)
DentoNordic AB (stand A43) is launching two new and unique dental products at Natural Products Scandinavia. These include 'Dentanurse First Aid for Teeth' – a well proven self-treatment product to be used for temporary fillings and to re-fix dislodged crows/bridges; and 'DentoNordics Dental Instruments' – a self-treatment product for removing plaque and tartar. (Sweden)
Axellus (stand D25) is one of the leading suppliers of health supplements in the Nordic region. Following meticulous research and extensive testing, Axellus is launching their product LitoMove, market-leading within the field of rosehip and joint health, in a new and twice as effective formula. Axellus has managed to develop the unique Rosenoid compound, which gives the new LitoMove better pain relief and improved mobility. LitoMove is a natural product and can truly make a difference for patients suffering from joint problems. (Sweden)
IMMIFLEX – optimum immune protection (stand B16) will exhibit its Immiflex and ImmiFlex Kids food supplements, which contain Wellmune WPG®; a natural ingredient clinically proven to activate the body's immune system. ImmiFlex delivers broad protection without over-stimulation of the immune system. It is documented safe and effective, and is approved by the WADA accredited INFORMED-SPORT programme. Studies have shown that Wellmune reduces the duration of cold/flu symptoms, upper respiratory tract infection symptoms, improves mood states, and reduces immune suppression associated with strenuous exercise. (Sweden)
Svensk Egenvård will be hosting a speaker session at the show's Nordic Self Care Conference (Theatre 2) on 'The Certification System and Guidelines' for Swedish food supplements. The association organises 75 percent of the suppliers of plant based pharmaceuticals, dietary supplements and health provisions on the Swedish market. Annika Hjerpe, author of 'Selfcare in practise' will also be holding a book signing on the same day, Sunday 14 October. (Sweden)
Norges NaturmedisinSentral (stand C32) is a Norwegian importer and wholesaler of quality natural medicines, food supplements, natural cosmetics and superfood. The company distributes to health food stores, pharmacies and private consumers across the whole of Norway. With established experience in the distribution of homeopathic medicines to pharmacies, Norges NaturmedisinSentral is able to reach out to a wide range of customers every day. The most popular brands in its range of food supplements are Manuka honey from Manuka health; SunWarrior rice protein; and Epsom salt from Wienerwaltz.
Leading Danish nutraceutical producer Biosym (also known as OmniSym Pharma in Sweden and MinPharm in Germany) will officially present two of its latest products at Natural Products Scandinavia (stand C14). OsteoRemin Forte© is a new breakthrough medical food supplement, which addresses osteoporosis. It includes a novel new form of plant based calcium, which in studies has indicated the potential to not only slow the loss of bone mass but actually rebuild it by up to 4% after one year. OmniKrill© – awarded the title of Denmark's best health food supplement in 2011 – includes high quality krill oil. Krill oil is rapidly gaining popularity around the world for its enhanced bio availability, and it is often touted as a second-generation of Omega-3 supplements. OmniKrill© also includes a potent dose of EPA and DHA, and a wholesome 1000ug of astaxanthin. (Denmark)
GoOrganic A/S (stand A41) has developed a new generation of dietary supplements following more than fifteen years of research and clinical evaluation/experience. GoOrganic is a series of very effective food supplements made of co-natural vitamins and organically-bound minerals, without synthetic nutrients. The range consists of a number of products that are all essential for a body's well-being and correct conditioning. The company has based its new generation of GoOrganic food supplements on scientific evidence, and they have been designed and manufactured to significantly increase bioavailability. (Denmark)
Frenchtop Natural Care Products will also introduce its Royal Green certified organic Maca on stand D11. The company's unique production process results in a gelatinised Maca, which is concentrated at under 45 degrees (often Maca is heated up to 100-120 degrees!). Royal Green delivers a 'raw' highly concentrated (6:1) and 100% certified organic Maca – not heated, radiated and free of fillers. Six kilos of fresh Maca is concentrated back to one kilo of pure powder! The whole food form means nothing gets lost during the extraction process. It's 100% vegetarian and vegan, and available in a 60 vcap package. (The Netherlands)
Capsugel, the world's leading hard capsule manufacturer, has introduced Plantcaps™ capsules, a plant-based capsule made from pullulan – naturally fermented from tapioca – for a more extensive and distinctive appeal to the booming and discerning healthy lifestyle market worldwide (stand E37). Plantcaps is preservative-free, gluten-free, starch-free, allergen-free, and non-GMO. In addition, it satisfies dietary needs with its GRAS status, Kosher and Halal certifications, and approval by the Vegetarian Society. Along with Plantcaps capsules, Capsugel's vegetarian capsule portfolio includes the standard Vcaps® capsule, the world's best-selling vegetarian capsule; Vcaps® Plus capsules; and DRcaps® capsules with modified release. (Belgium)
Snoring a problem? Well here is something worth giving a go – the new Good Night Anti-snoring Ring, which utilises proven ancient Chinese acupressure therapy (stand A27). Simply place the Good Night Anti-snoring ring on your little finger at night before going to sleep, and – hey presto – no more snoring! The ring works on two acupressure points located on the little finger. The ring's acu-activators work to free up breathing passages and natural bio rhythms to give a snore-free restful night's sleep for users and their partners. The ring is natural, elegant and non-invasive, it comes in three sizes and is fully adjustable. (Malaysia)
Dr. Harmony, founder of Harmony's Ear Candles – the number one ear candle company in the world, is honored to introduce her new Sage and Sweetgrass Aromahanced ear candles at Natural Products Scandinavia (stand C16). Harmony's Ear Candles combine the four ancient healing elements: earth, air, fire, and water, in a real life application. These elements work in harmony with the sage and sweetgrass essential oils infused in every candle for a unique aromatherapy experience. (USA)
Introducing Dermacoll™ and Flexicoll™ by Healtharena Ltd (stand A21). Be among the first to sample Healtharena's new high-strength collagen formulations at Natural Products Scandinavia. Their Dermacoll™ High Strength Collagen Drink is the first in the UK to contain patented Verisol® collagen, a superior brand of collagen proven to give increased skin elasticity after just four weeks. And from elasticity to flexibility, try their new Flexicoll™ High Strength Collagen Drink with patented Fortigel® collagen, proven to help maintain joint health and mobility. (UK)
Kinetic Natural Products Distributors (stand B22) will be unveiling three new products from Terranova Synergistic Nutrition, supplements made from fresh freeze-dried botanicals that offer whole-food nutrition in a form easily recognised by the body – Beetroot Juice, Cordyceps & Reishi Super-Blend; Hawthorn, Ginkgo & Bilberry Super-Blend; and Green pH Alkaline Super-Blend. They will also be bringing two new brands to Scandinavia – Amazing Grass – a range of organic green superfoods, and Nutiva – organic hemp, coconut and chia superfoods. (UK)
Seagreens®'s wild harvesting and production is a patent pending process, which has set the standard for human food quality seaweed production worldwide (stand D15). Seagreens has a small range of 'core' products – all 100% organic wild seaweed, which are used by medical practitioners and consumers worldwide. Seagreens aim is to get everyone to have at least one gram in their daily diet, as even a small amount of the right kind of seaweed fills nutritional gaps in the modern diet. This is why Seagreens® is expanding in Scandinavia and elsewhere in Europe, and require top distributors to sell their superlative product range. (UK)
Syno-Vital Ltd (stand A21) is proud to announce the launch of Syno-Vital (Oral Hyaluronan) into Sweden. Working closely with its new distributor ClinProducts AB, they are looking forward to expanding into the Nordic market and bringing the benefits of Syno-Vital to more consumers. Hylauronan is found in the synovial fluid of the joints, 50% of HA in the body is found in the skin and 92% of the vitreous gel of the eye is HA. (UK)
Rainforest Foods will be launching their newly packaged range of organic superfoods under the Green Origins brand at Natural Products Scandinavia (stand D48). Green Origins is a range of organic superfoods certified by the Soil Association and sold directly to European retailers. The new packaging combines contemporary design, with the natural look of kraft paper. The current range includes 21 of the best-selling superfoods – ranging from acai berry to wheatgrass; with further products to be added over the next 12 months. Also on display will be Rainforest Foods' range of superfood pouches, capsules and tablets, which are available through distributors in Europe. (UK)
Nasaleze International Ltd (stand A10) will be exhibiting their range of natural, clinically proven powder nasal sprays for both allergy and cold/flu prevention. They will also be launching their new product – Silidyn – a uniquely bio-available food supplement to support strong nails, full hair and beautiful skin on the outside and improve joints, bones and blood vessels on the inside. Exclusive distribution opportunities are available. (UK)
Natures Aid (stand D27) were the first UK manufacturing company to be granted a Traditional Herbal Registration and after much investment and seven years later, they have developed six Traditional Herbal Registrations that have been formulated to the highest specification using only natural ingredients. The range includes, EchinEeze® Echinacea root extract 70mg; Milk Thistle Root Extract 150mg; SleepEezy® Valerian root extract 150mg; JointEeze® Devil's Claw root extract 300mg; StressEeze® Rhodiola rosea root extract 166mg; and Ucalm® St. John's Wort herb 300mg. (UK)
Natracare's award winning, organic and natural feminine hygiene products created and developed 23 years ago, continue to innovate and drive the organic and natural feminine hygiene category around the world (stand D12). Natracare Ultra Pads and, recently upgraded, Maxi Pads are the natural choice for feminine hygiene. Made from certified organic cotton and sustainably sourced FSC wood pulp from Scandinavian forests, Natracare Pads do not contain any plastics, dyes or fragrances and are totally chlorine free. Available in a range of absorbencies the Nordic Eco-labelled pads are gynaecologist recommended and ethically accredited. (UK)
Mooncup®, the world's first medical grade silicone cup, turns 10 in 2012 (stand D30). The award winning, certified ethical business, manufacturing in the UK, is thrilled to be 'coming of age' in times that are perfect for the Mooncup – a genuine solution for the healthy, environmentally and financially-savvy woman. Stocked by retailers in 55 countries worldwide, including the UK's leading pharmacy chain, Boots – there's nothing more powerful than an idea whose time has come. (UK)
Julie Goodwin Limited (stand D47) will be showcasing kokoro's sensational haramaki tummy wrap, which is based on traditions dating back to Japan's 12th century Samurai warriors. Today, it's all about fun and functionality. The warm, flexible haramaki is an ideal year-round accessory for exercise, leisure and relaxation. Made from closely-ridged layers of 97% cotton and 3% polyurethane, the cosy haramaki keeps core body temperature warm, which in turn helps hands and feet stay warm, however chilly it might be outside. (UK)
Primera Technology Europe (stand D37) is passionate about labels that set products apart from others. The manufacturer of full-color label printers and labeling accessories is presenting its new LX900e Color Label Printer at Natural Products Scandinavia. LX900e prints brilliant high-quality product labels at speeds of up to 11.4cm per second. Separate ink cartridges keep operating costs low for label production. It's the perfect solution for everyone who wants to design and produce their own product labels in exactly the amount that's needed. (Germany)
dansk farmaceutisk industri a-s (stand C38) will present its new brand EasyChew – a range of great tasting gummies with no artificial flavours, sweeteners or colours; and guaranteed dairy, gluten and nut free. EasyChew gummies come in three different formulations: Omega-3 with DHA & EPA; Multivitamin with Omega-3; and Vitamin D3. EasyChew gummies are a high quality alternative to hard-to-swallow tablets for adults and teenagers. (Denmark)
Swedish distributor Goodtrade (stand C05) will showcase some of its popular brands, including organic soft drinks from SVART & RØD; superfoods producer Naken; vegetarian and protein rich soy products from Goodsoy; and meat-free alternatives from Astrid och aporna. Naken – har ett stort utbud av superfoods, nötpasta och groddbröd. I dryckesväg finns Kombucha, en naturlig törstsläckare framställd av fermenterat te och innehåller nyttig probiotika. Från Goodsoy hittar du vegetariska och proteinrika sojaprodukter av hög kvalitet. Här finns något till grillen, stekning, wok, färssåser och pajer. Astrid och aporna – Pålägg, korvar och burgare, stekbullar, panerad f*sk och f*skpinnar samt julsk*nka utan rumpa i juletid. Samtliga varor är helt vegetariska, utan mjölk och ägg. SVART & RØD – En av marknadens mest prisvärda ekologiska läsk i två olika varianter; SVART med colasmak och RØD med smak av bär.
The French Pavilion on stand E12 will feature a host of speciality food suppliers, including artisan chocolatiers Saveurs et Nature; Côteaux Nantais – an organic producer of apples and pears; Nature et Aliments – creators of sugarless desserts made from agar, cream and semolina (containing no sugar, no gluten, or milk); organic and gluten-free food specialists Nature & Cie; and Evelia, which represents the milling industry cooperative Terrena Group.
Leading organic Mediterranean brand la BIO IDEA (DO-IT Dutch Organic International Trade, stand A31) will introduce a new range of aromatised organic olive oils, which have been flavoured with the essential oils of plants (including lemon; garlic; mint; and basil). There's also a new range of organic whole spelt pasta, made according to traditional standards by a small Italian family company. Whilst new additions to its superb range of organic chopped and peeled tomatoes in a tin include Organic Cherry Tomatoes; Organic Chopped Tomatoes with Basil; and Organic Chopped Tomatoes with Herbs. (The Netherlands)
Amaizin's exotic range has been expanded to include organic green, yellow, red curries (DO-IT Dutch Organic International Trade, stand A31). Made in Sri Lanka with traditional recipes and an extended variety of local herbs and spices, every curry has its own colour, flavour, fragrance and taste. Plus, there's also a new organic ready to eat Jasmine Rice (in white and brown). The rice is an authentic Thai product, with a rich natural flavour and fragrance, which is ready to use in less than 2 minutes. (The Netherlands)
Rosies (stand D34) is committed to making delicious organic and non-organic, gluten and dairy free breakfast cereals. Rosies' new Organic Oat Muesli combines a time-honoured blend of ingredients with delicious apple, dates and apricot pieces. Rosies' wide product range, in its attractive, modern packaging, is an appealing addition to any health food assortment. Bursting with flavour, wholesome and suitable for a celiac diet, all products meet the best practice standard in gluten free manufacturing (ie 20 parts per million gluten). (The Netherlands)
Happy People Planet will be showcasing Great Taste Award winning organic spiced almonds and organic and Fairtrade chocolate coated almonds. Visitors to Natural Products Scandinavia are invited to stand A29 to sample a unique, organic and Fairtrade drinking chocolate stick, plus the company's latest organic snacks. Happy People Planet work closely with disabled people, and also use Braille on their eco-friendly packaging. Happiness is real when shared – join the Happy Revolution! (Luxembourg)
Bioitalia Distribution Srl (stand A42), is one of the leading companies in the organic sector supplying a wide range of retail and food service products with the taste of the Mediterranean diet and the healthiness of organic foods. They have announced the launch of several new products for Natural Products Scandinavia, including Infused Extra Virgin Olive Oils, made by the cold extraction of the aroma of fresh basil, chili pepper and fresh PGI Amalfi Coast lemons through ultrasounds; Crunchy and tasty Crackers, made with sourdough; Tomato Pesto sauce, made using tasty ripe tomatoes and fresh basil, which is ideal on canapés, bruschetta or pasta; and Olives and Artichoke Spreads, which are perfect for appetizers. (Italy)
Frescolat s.r.l (stand D46) offers an innovative choice of organic food. Its new vegan mozzarella made out of sprouted brown rice – MozzaRisella and SmokeyRisella (a smoked version of MozzaRisella flavoured with turmeric – are perfect for consumers with lactose or gluten intolerance. 100% gluten and soy free, organic and vegan, this light and digestible melting rice cheese, without milk and lactose, is made using top quality vegetable ingredients. Also available in a spread version called CreamyRisella. The company's 'clip' packaging also ensures its products can preserve their quality when stored after opening in the refrigerator. (Italy)
Excel Trade LLC "Don't Panic...It's Organic!" (stand A39) represents America's market-leading and most innovative brands in organic, natural, free from and eco-friendly produce. They are proud to present, along with their local partners, for Nordic distribution: Nature's Path; Pacific Foods; Bob's Red Mill; Smart Fries; Koochikoo; Biokleen; Yummy Earth; Lakewood Juice; and Wholesome Sweeteners.
As eco-pioneer, Demeter claims its leadership in quality (stand A22). The reason lies in the motivation of Demeter-farmers and Demeter-processors using the Biodynamic approach. To give traders an understanding of the Biodynamic quality, Demeter have launched a new journal named Demeter Journal professional. It aims to inform producers and retailers about the Demeter standards and gives good reasons for Demeter dairies and cereal products, fruits and vegetables. Demeter is more than just a small difference!
Demeter e.V and Demeter Felderzeugnisse GmbH will also be hosting a Demeter Pavilion at the show on stand A22, participating companies include Swiss-based Holle baby food GmbH; Bauck Organic Mills; Swedish organic food supplier Biova; Mogli; and natural organic juices specialist Voelkel GmbH. (Germany)
GESA Gemüsesaft GmbH (stand B36), manufacturer of organic vegetable juices for trade customers for more than 25 years, are introducing a new concept for juices blends – called FRUITABLES (fruits and vegetables). The idea is to combine all aspects of organic juices (such as taste, health and quality) in order to meet consumers' expectations in individual terms – wellness, pleasure and joy of life. Several formulations have been developed and can be modified according to a customer's specifications and local preferences. (Germany)
PoloBio Organic Consulting (stand E47) works with Italian organic producers, selling their products on the organic market with their own brand or as private label. Whilst the team is based in San Bonifacio (Verona, Italy), it works directly with partners in France, Spain and Germany. Using their vast knowledge of organic producers in Italy, they are able to research new products for its customers, which best suits their market needs. Organic products on show at Natural Products Scandinavia include Guerzoni's balsamic vinegar; Dea Nocciola's hazelnut creams; Biolab's organic ready meals; Radici's gourmet products; Lodigiana's rice and risotto; and BMS's legumes and seeds.
Power of Nature from Estonia will be showcasing its hot wild blueberry-blackcurrant glögg (the Scandinavian term for mulled wine) on stand C25. The glögg making procedure can be seen right from the beginning to the moment it is ready to drink, with visitors able to enjoy the aromatic scent of eight different spices whilst it is being prepared. (These spices are known for their ability to strengthen the immune system, boost metabolism and maintain circulatory health.) Power of Nature is dedicated to developing, producing and distributing organic products in Scandinavian and Baltic countries.
Virginia Health Food Ltd (stand E43) will present Helen's – a new range of milled flaxseed/linseed crunch products and gluten free baking mixes. The Flaxseed range satisfies consumer concerns regarding adding nutrition to breakfast cereals and delivers a very high return on allocated shelf space. Helen's Gluten Free Bread mix range provides a quality end product unrivalled in the market. Helen's range delivers superior quality products targeted at the heart of mainstream retailing, offering great value for retailers and consumers alike. (Ireland)
Fish4Ever (stand B29) has newly re-launched its export ready multi-lingual Fish4Ever boxes, with premium and mainstream ranges to cover a wide range of market opportunities. One of the world's leading sustainability pioneers in canned fish, they have over 10 years of experience and hold a world record with Greenpeace. Fish4Ever was the only brand to score over 70% (Good) in Greenpeace Australia's latest Canned Tuna Guide (it actually scored 86%!) for its commitment to not source tuna from proposed marine reserves and its commitment to equitable sourcing policy for tuna. Importers and distributors sought. (UK)
Amy's Kitchen (stand B41) was started by Andy and Rachel in 1987, when their daughter Amy was born. They are a family run business deeply committed to producing convenient, healthy prepared foods that taste homemade. In 2011, they set up their first production facility in the UK to produce delicious soups and frozen meals for the EU Market, made using only the finest natural ingredients. All products are vegetarian and cater for a variety of special diets; including gluten free, dairy free and vegan. At Natural Products Scandinavia they will be serving highlights of their tastiest products, including Chunky Tomato Soup and Mushroom Risotto. (UK)
The world doesn't need a new smoothie – it needs a better one. Multi award winning NOSH: The Raw Smoothie, the fast growing UK based home detox delivery service, is delighted to be launching the world's first range of 100% raw smoothies at Natural Products Scandinavia (stand E39). With the 'raw food craze' gathering pace worldwide, Nosh Raw Smoothies has a new premium range of on-the-go smoothies, that provide two of your five a day, use only fresh ingredients, and contain superfoods. Each offers different health benefits and is made without the heat treatment of conventional smoothies, thus ensuring maximum nutrition. Founder Geeta Sidhu Robb, who has just launched the brand in the UK this August, will also be speaking at the show's Nordic Self Care Conference (Theatre 1) on Sunday 14 October about 'Following a Raw and Detox Diet'.
Pulsin' (stand B25) has launched new packaging for its award winning beond bar. Not only organic, raw, vegan, gluten free, dairy free and soya free, they are also extremely tasty too. Containing no colourings, the bars are perfect for special diets including no added sugar. They come in two delicious flavours, made from 100% natural wholefood ingredients. The beond Raw Choc bar contains single estate raw chocolate from Peru, dates, almonds and raisins. The beond Açai Berry bar contains almonds, dates, acai berry and raspberry. (UK)
Clearspring Ltd, one of Europe's largest natural foods import and distribution companies, will be showcasing several new popular additions to its portfolio on stand A46. These include sweet grains desserts – Amazake (dairy-free), which is available in three grains: brown rice, millet and oat. This thick sweet paste was traditionally used in Japan as an ingredient in drinks and desserts. Other new products include organic Italian balsamic and apple balsamic vinegar; plus Snack Organic – Roasted Seeds and Soya with Goji Berry. With the addition of this new fifth variety to its Snack Organic range, Clearspring has entered the 'Superfoods' arena. Using only seed and soya grown in the EU, the resulting snacks are delicious, healthy, gluten free and entirely organic. (UK)
Natural Products Scandinavia will be held in Malmö, Sweden, on the 14-15 October, in the new Malmömässan. Attending the event is free for trade visitors who pre-register in advance at http://secure.smartregister.co.uk/events/divcom/2012/NPS/start.aspx?code=NPS222.
For further information, please visit http://www.naturalproductsscandinavia.com.
Press passes are available to media professionals working on editorial or broadcast coverage of the event. To request a press pass, please email your full details to the show's PR Manager, Emma-Louise Jones, at ejones(at)divcom(dot)co(dot)uk (additional details may be required to verify journalistic activity).
###
For press interviews, please contact:
Carsten Holm, Managing Director, Diversified Business Communications UK
t: +44 1273 645 114
e: cholm(at)divcom(dot)co(dot)uk
UK-based PR contact:
Emma-Louise Jones, PR Manager, Diversified Business Communications UK
t: +44 (0)1273 645134
e: ejones(at)divcom(dot)co(dot)uk
http://twitter.com/DiversifiedUK
http://www.divcom.co.uk
Exhibitor enquiries to:
Zoe Jackson-Cooper, Event Manager
Diversified Business Communications UK
t: +44 (0)1273 645141
e: ZoeJC(at)divcom(dot)co(dot)uk
http://twitter.com/NPScandinavia
http://www.naturalproductsscandinavia.com
Scandinavia office:
Lars Larsson, Project Manager
Nordenskiöldsgatan 13, S - 211 19 Malmö, Sweden
t: +46 (0) 40 970560
e: lars(dot)larsson(at)halsofackhandeln(dot)se
Notes:
Diversified Business Communications UK Ltd (Diversified UK) is a fast growing trade event organiser and publisher based in Brighton. In addition to Natural Products Scandinavia, Diversified UK's portfolio includes Natural & Organic Products Europe, lunch!, camexpo, office*, the Service Desk & IT Support Show, Natural Products magazine and the Natural Beauty Yearbook.
Diversified UK is part of Diversified Business Communications, a leading international media company with a successful portfolio of sector leading exhibition, conferences, publications and websites.