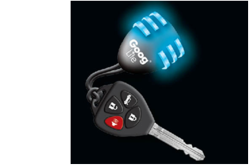 Women waste on the average about 6 minutes a day searching for their key's in large hand bag.
Wellington , FL (PRWEB) October 04, 2012
Like so many of us, Barry Biondo has often said, "Someone ought to invent ___." The difference is, when Biondo sees a need for a new gadget, gizmo, or process, he usually invents it himself. As a kid, he was always taking things apart to see how they worked. These days, he utilizes his self-taught mechanical knowledge in pursuit of inventions to make life easier, better, simpler…or safer.
"Easier" and "safer" both apply to the Goog Lite, Biondo's latest invention. After watching his girlfriend always having to root around in her handbag in search of her keys.
With very limited fund's he started researching electronic circuits with a series of books and manuals from Radio shack. After getting a general idea on how he wanted it to operate he purchased most of the necessary parts form radio shack, cleared off his dining room table and was determined to build his invention. For about 6 months waking up at 5am, testing hundreds of LED's to find the optimal high intensity brightness he envisioned, the final prototype was ready. The next step was to design a unique housing that would be small yet appealing. Taking a pencil to a pad and hours of sketches and looking at other products on the market, a new innovative shape was starting to take shape. He then made a clay model with everyday kids clay. He used this clay model to make a fiberglass mold using auto body materials in his garage. With a little sanding and paint he created an actual working prototype in a regular suburban house with a garage for under $300.00.
Biondo applied for a patent on this key finder that attaches to a key ring and emits a obnoxious super bright blue strobe when shaken hard. A gentle bump won't activate it accidentally, but a hard shake of the purse activates the bright blue LED's, making the key ring a cinch to find without having to do a purse dump.
It's more than a matter of convenience: When you're in a dark parking lot or garage and yearning for the security of being safely inside your car, you don't want to stand there, vulnerable to muggers and other "bad guys," while frantically searching for your keys. With the Goog Lite they're immediately at your fingertips.
"Statistically a women spends an average of six minutes a day looking through her bag in order to locate her keys," Biondo says. "I own a salon. I witness this every day."
The Goog Lite has other uses, too. If the keyhole of your car or house door is not well lit, the Goog Lite can help you insert your key readily. And if you're meeting a friend at a crowded venue, holding up the blue Goog Lite can help your friend find you in the crowd.
One of Biondo's first inventions was a motorcycle carrier that fits into a tow hitch and suspends the motorcycle from the back of the vehicle. There has been a long succession of other inventions since then, leading up to the Goog Lite. Biondo conceived of and designed it all on his own, though he did get help from an MIT graduate in refining the design for the circuit. Biondo takes a dim view of the help offered by companies that advertise to inventors. He says, "I've learned over the years, if you want something done then do it yourself."
The Goog Lite is certainly a device that any woman carrying a handbag will love, and you don't have to be in a deserted area at night to appreciate it. It makes finding your keychain easy even in all that clutter.
The Goog Lite's unique high-tech design utilizes a small micro processor preventing false triggering and gives an average of up to one year of use before the battery needs replacement. The key is attached using a circular rubber cord to prevent unwanted clattering.
For more info visit http://www.googlite.com